This KETO Choco Butternut Donut won't make you miss your favorite donut! And you won't believe it's KETO when you've tried it.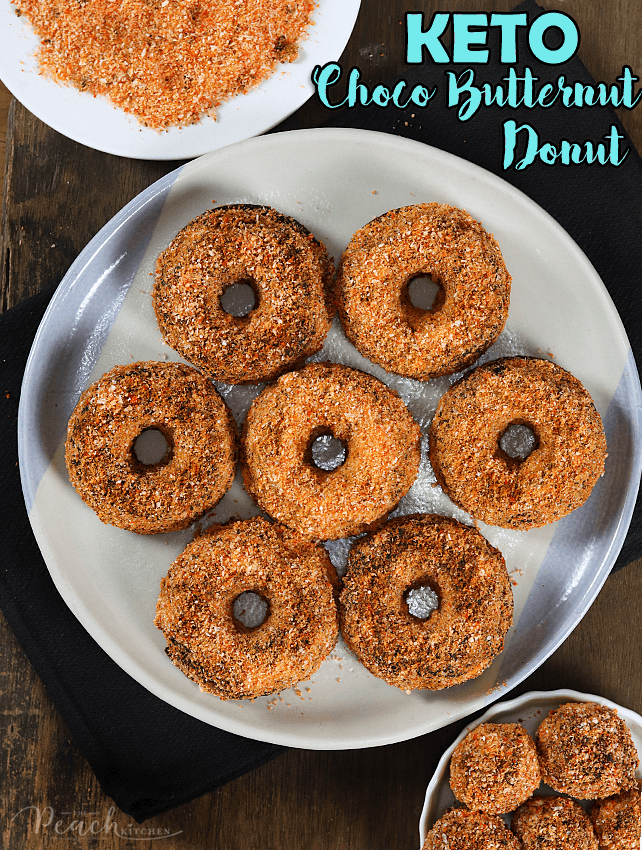 I have a sweet tooth. So one of my downfall when doing keto or a low carb, sugar free diet is craving sweets. I crave sweets during merienda. I crave sweets after a meal. I crave sweets to pair with my coffee. And most of all, I crave my favorite Choco Butternut donut from Dunkin Donuts. To satisfy my cravings, I made my own low carb version with only 1g of sugar per serving.
And it tastes like the real thing!
Ang sarap sa coffee, promise!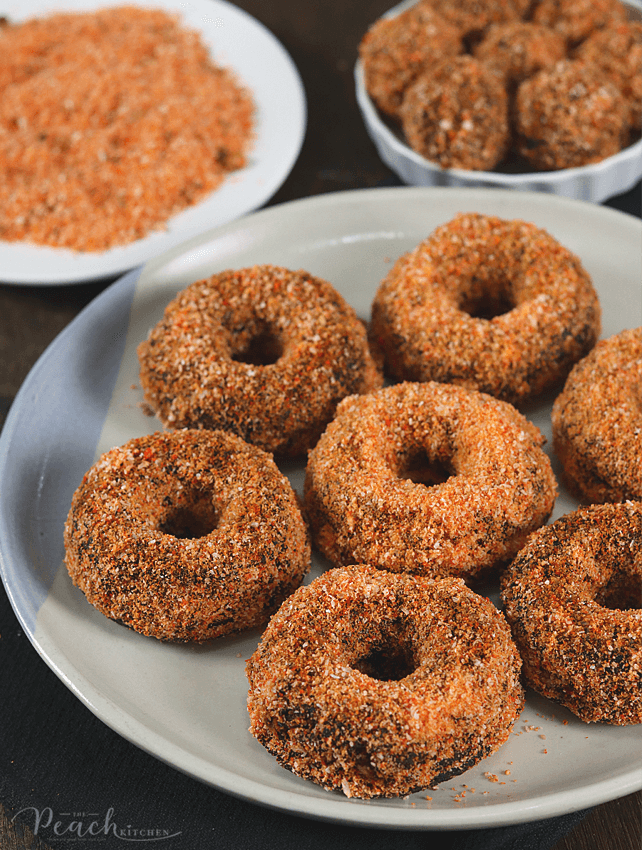 I used a combination of Almond flour and Coconut flour in making this donut and Erythritol to sweeten it. It makes 24 donuts but you can halve the ingredients to make 12.
WATCH THE VIDEO HERE
TO MAKE THE MUNCHKINS, I just crumbled the chocolate donut and then rolled it into a ball. Then I did the same thing I did with the donuts, I dipped each "munchkin" in chocolate glaze and rolled it in the butternut coating. It resulted in large-sized donut holes that are more like cake balls but it was delicious, so who cares really, right?

KETO Choco Butternut Donut
Ingredients
keto chocolate donut
2 cup almond flour
2 cup erythritol
¾ cup cocoa powder
¾ cup coconut flour
1½ tsp baking powder
1½ tsp baking soda
½ tsp salt
¼ cup melted butter
1 cup almond milk
3 eggs
1 cup brewed coffee
1 tsp vanilla extract
chocolate glaze
½ cup powdered erythritol
¼ cup cocoa powder
6 tbsp water
butternut coating
1 cup fine dessicated coconut
¼ cup powdered erythritol
4 tbsp melted butter
orange food color
Directions
Preheat oven to 350º.
Grease donut pan with melted butter
In a large mixing bowl, combine almond flour, erythritol, coconut flour,cocoa powder, baking powder, baking soda, and salt. Mix well.
Attach to the mixer and add almond milk, coffee, melted butter, and vanilla extract.
Add the 3 eggs one at a time.
When mixture is combined and mixed well, carefully scoop it in your donut pan.
Bake for 25-30 minutes.
Remove donut pan from the oven and cool to room temperature. Carefully remove the donut from the pan and transfer to a cooling rack.
Make the chocolate glaze: Combine erythritol, cocoa powder, and water in a shallow bowl and mix well. Make sure there is no lumps.
Make the butternut coating: Combine the fine dessicated coconut, powdered erythritol, and melted butter in a plate. Put a few drops of orange food color. Mix thoroughly with your hands. Add more orange food color if necessary.
Dip each donut in the chocolate glaze and then dredge with butternut coating.
Enjoy as a snack or dessert. Keep leftover in an airtight container in the fridge.
Notes
**Store your donuts in the fridge
**It will keep fresh for up to 6 days.
**You may halve the ingredients for 12 dounts
The nutrition information provided are only estimates based on an online nutritional calculator. I am not a certified nutritionist. Please consult a professional nutritionist or doctor for accurate information and any dietary restrictions and concerns you may have.
Nutrition Facts
Serving size 1 g
Servings per container 24
Amount per serving
Calories 122

Calories from Fat 108

% Daily Value*
Total Fat 12g
19%
Saturated Fat 7g
35%
Trans Fat g
Cholesterol 31mg
11%
Sodium 135mg
6%
Total Carbohydrate 6g
2%
Dietary Fiber 2g
8%
Sugars 1g
Protein 2g
* Percent Daily Values are based on a 2,000 calorie diet. Your daily values may be higher or lower depending on your calorie needs.
♥
 If you make this recipe, kindly snap a photo and tag @thepeachkitchen on Instagram (OR hashtag it #thepeachkitchen). I'd love to see what you cook!