Definitely one of my favorite breakfasts and one way I do lazy keto/dirty keto is this SPAM-bled Egg. It's super easy, it's just your regular scrambled egg mixed with yummy, umami cubes of SPAM.
This is what I do with the spam before adding the egg…. let it fry and sizzle in the frying pan.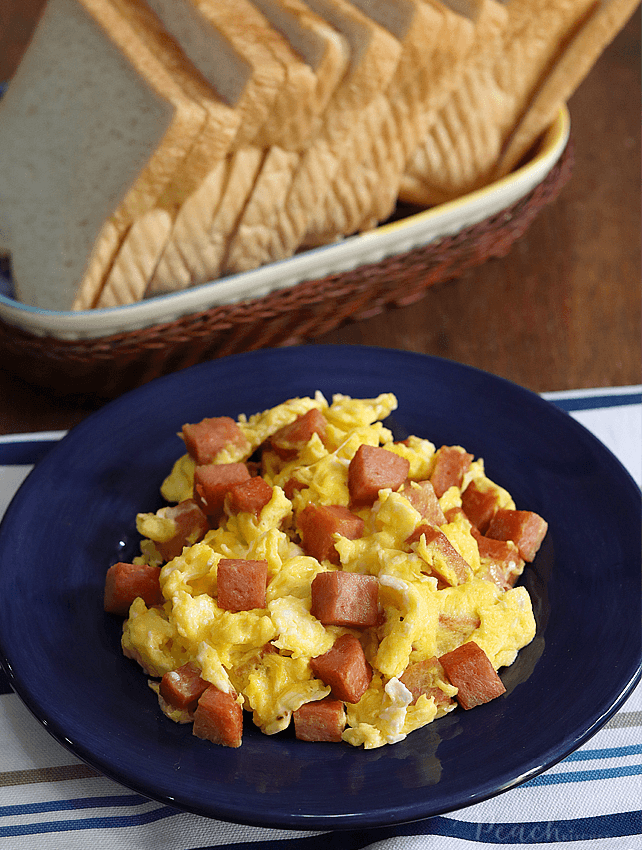 It makes my scrambled egg tastier at mas masarap na ipalaman sa pandesal, sliced bread… at kahit i-partner sa rice! It's also an ideal pambaon for lunch or recess sa school!
Syempre ngayon, I eat it as is because I am doing a low carb diet. I usually cook two slices of SPAM with two eggs.
Kayo mommies, anong favorite nyong way to eat or serve Spam to your loved ones?
For more Spam recipes, visit https://spam-ph.com/recipes
SPAM-bled Egg
Ingredients
3 slices of Spam, cut into cubes
1 tbsp cooking oil
4 eggs, beaten
pinch of salt and pepper
Directions
Season beaten eggs with salt an pepper, set aside.
Heat oil in a non-stick pan and fry Spam until cooked.
Remove oil from the pan and pour in the beaten eggs.
Cook over medium heat stirring continuously until soft cooked.
Remove from the heat and transfer to a plate
Serve with bread or rice.
♥ If you make this recipe, kindly snap a photo and tag @thepeachkitchen on Instagram (OR hashtag it #thepeachkitchen). I'd love to see what you cook!