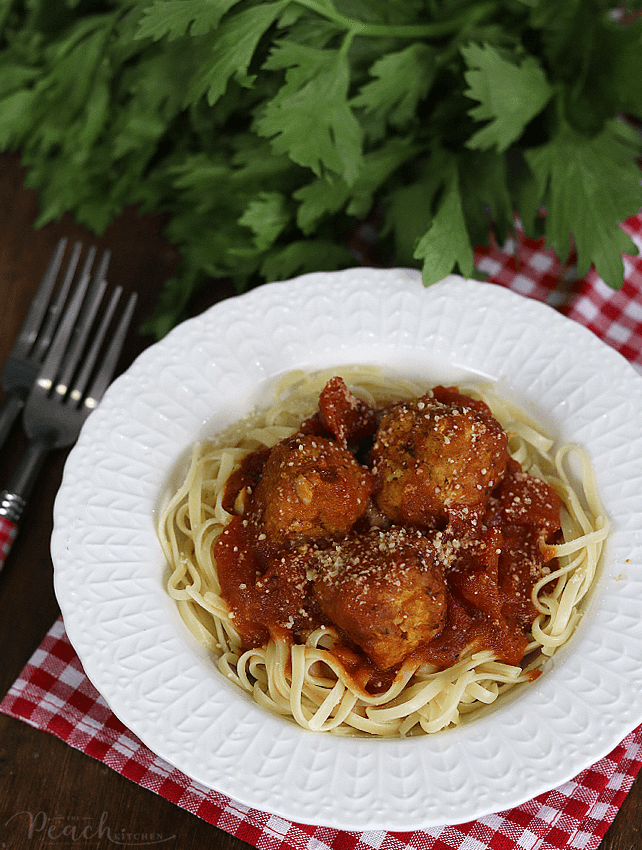 It's #PHLockdown Day 5 and I'm sharing with you our lunch for day 2. The ingredients I used here are our kitchen staples. I always have frozen ground chicken in the freezer and canned tomatoes. So when Ykaie requested for Spaghetti and Meatballs, I was able to cook it for her. So Linguine & Chicken Meatballs in marinara sauce was our lunch.
Sauce is so simple and easy to make. I just sautéed garlic in olive oil, then poured in the canned tomatoes. Then I let it simmer for a few minutes and seasoned it with oregano, basil, salt and sugar and it's done. For the chicken meatballs, I combined: ground chicken, onion, garlic, parsley, oregano, egg, bread crumbs, salt, and pepper. I also added Malunggay powder for a boost in nutrition. Then I mold it into a ball and fried it before adding it to the sauce. It smelled so good while simmering.
Ayan, naka-2 serving agad si ate Ykaie…
Our Day 3 lunch menu is Crispy Binagoongan with eggplant, Steamed talbos ng Kamote, Cauli Rice, and sawsawang calamansi. I had to use all these veggies or they will go bad, hence this lunch.
I have little veggies left in the kitchen and scared to go out because I just heard the update of 307 confirmed cases as of today.
How about you mommies? How are you holding up?
Print
Spaghetti & (Chicken) Meatballs
500g

Spaghetti, cooked according to package directions
grated parmesan cheese
for the Marinara Sauce
6

cloves garlic, minced

2 tbsp

olive oil

2

can diced tomato/ crushed tomato ( I used Doña Elena)

1/2 cup

water

2 tsp

dried basil

2 tsp

ground oregano

1

–

2

tbsp sugar

2 tsp

salt

1/2 tsp

pepper
for the chicken meatballs
500g

ground chicken

1

white onion, finely chopped

2

garlic cloves, minced

2 tbsp

dried or fresh parsley

1 tsp

dried or powdered oregano

1

egg

¾ cup

breadcrumbs

½ tsp

salt and pepper

1 tbsp

malunggay powder (optional)
oil for frying
Instructions
Make the Chicken Meatballs: In a large bowl, mix all of the ingredients together by hand except the oil. Form them into 1 1/2 inch balls and set them on a plate.
Heat a large non-stick frying pan with about 2 tbsp of olive oil and fry the meatballs in two batches until golden on all sides. Set aside.
Cook the Marinara Sauce: In a pot, sauté garlic in heated oil until brown.Pour in diced tomato/ crushed tomato. Add water. Bring to a boil and simmer for 30 seconds over low heat.
Add the basil, oregano, salt and sugar. Stir and simmer for a few seconds.. and it's DONE!
Add the meatballs in the sauce and simmer it for about 3 minutes to become flavorful and it's ready to serve.
To serve: Scoop sauce and meatballs on top of Spaghetti on a plate. Sprinkle with parmesan cheese and enjoy while hot.
♥ If you make this recipe, be sure to snap a photo and tag @thepeachkitchen on Instagram (OR hashtag it #thepeachkitchen). I'd love to see what you cook!