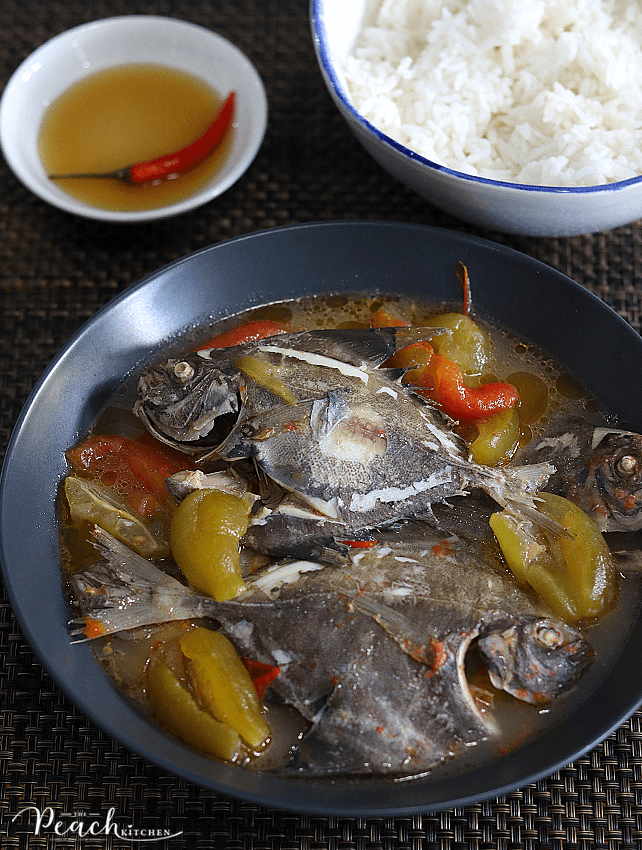 Sometimes the simplest food are the most delicious…. just like this Pinangat na Pompano sa Kamias at Kamatis. It's a simple dish of fish simmered in souring agent kamias (belimbing/ bilimbi) and kamatis (tomato) but the flavor combination of the different kinds of souring agents brings out the taste of the fish.
For me, it brings me to a place of peace. It reminds me of my parents who love these kinds of Filipino dishes. Simple and easy to cook. It reminds me of my nanay and tatay eating together in the dining table while talking about the news and everything under the sun. It may not look much but it was one of the moments where I can see how much they love each other. Hay, I miss my parents (they're both deceased)… especially now that my emotions are really unstable. (sorry na, ang aga-aga nag-eemote ako..)
WATCH THE VIDEO HERE: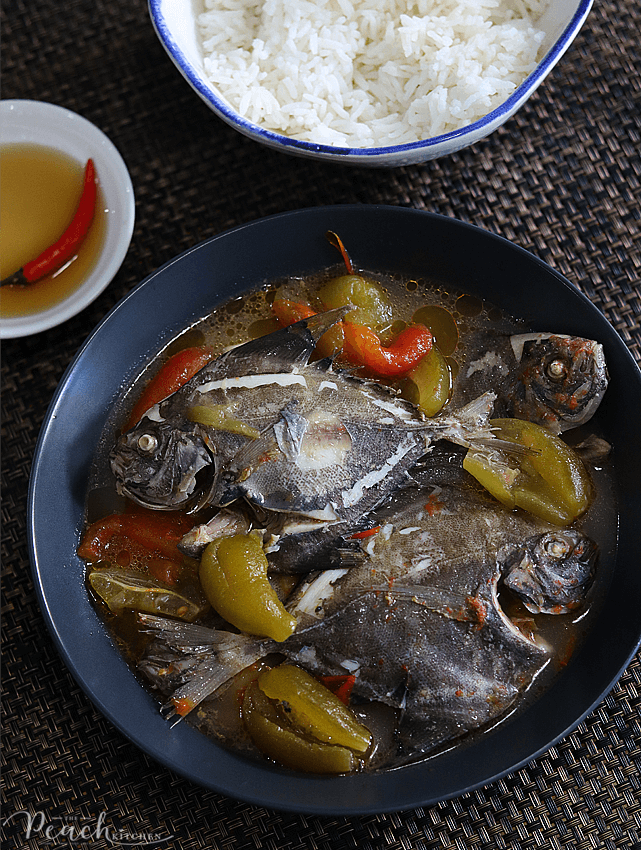 Anyway, What is Pinangat or Pangat? There are actually two versions of Pinangat, one is cooked with water and a souring agent and one is cooked with coconut milk. The sour version is what I grew up with, we love cooking shrimp, and other types of fish as pinangat but we only use tomato as the souring agent. Unlike sinigang, though, pinangat doesn't have much soup.
When I got married, I learned to experiment especially because peanubutter♥'s Pinangat version has soy sauce. And sometimes, like today, we had kamias that's expiring — and so it has to be used, hence, Pinangat na Pompano sa Kamias at Kamatis became today's lunch.
How's Quarantine life treating you today?
Print
Pinangat na Pompano sa Kamias at Kamatis
1 tbsp

cooking oil

2

cloves garlic

1

onion, chopped

1

thumb-size ginger, sliced

3

tomatoes, quartered

8

pieces kamias

3 cups

water

1 tbsp

sinigang mix

700g

pompano

1 tsp

patis
Instructions
Heat oil in a pan and sauté garlic, onion, and ginger until fragrant and onions are translucent.
Add the tomatoes and cook for 1 more minute. Pour in water.
Add the sinigang mix and stir. Add the kamias and simmer for 3 minutes.
Add the pompano fish and Mash the kamias for the flavor to come out..
Simmer until fish is cooked. Season with patis.
Serve with steamed rice.
♥ If you make this recipe, kindly snap a photo and tag @thepeachkitchen on Instagram (OR hashtag it #thepeachkitchen). I'd love to see what you cook!