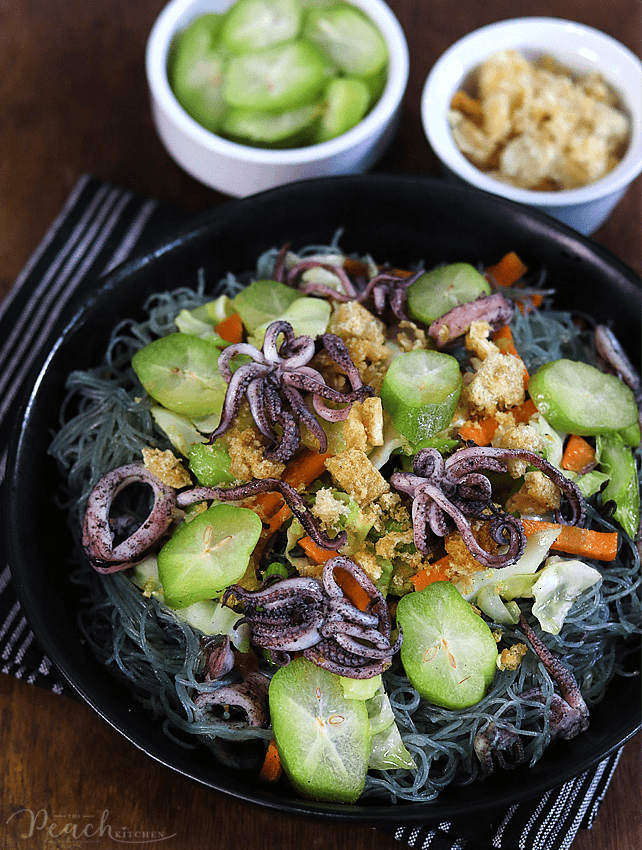 Goodbye Typhoon Ambo! It was short and sweet. I was actually a bit worried kasi ang lakas ng hangin last night but thankful din it didn't last long. There's always a positive and a negative side when there's a typhoon, I'm thankful for the much needed rain shower because it has been too hot the past few days AND I think it helped refill our Ipo dam. But I'm also saddened because some people in the provinces had to suffer and evacuate because of that.
Anyway, today is the first day of MECQ, and I heard that a lot of people went out. Hayssss!! I also read that a lot of the countries that reopened had an influx of infection and had to close again. Eto na naman po ako.. overthinking and worrying about what would happen to our country next.
Kung pwede nga lang nating i-kain na lang lahat ng worries natin no?
On a positive note, PhotoBucket is now working again! Woohoo! Kaya ayan, medyo maraming photo opp ang ating Pancit Pusit.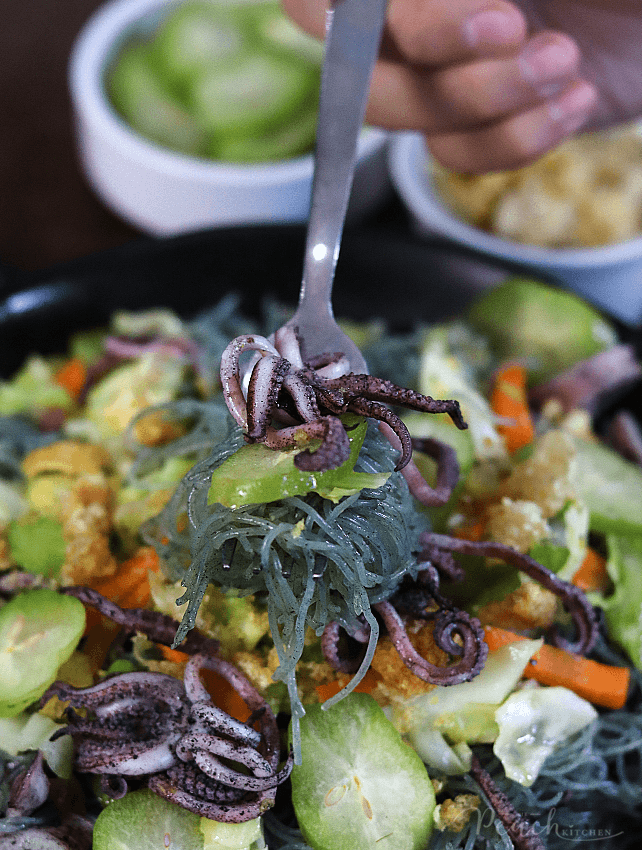 So what is Pancit Pusit? Also called Pancit Choca or Pancit Ala Negra, Pancit Pusit is just like Pancit Bihon Guisado but I used squid and squid ink to make it flavorful and tasty and I garnished it with contrasting flavors of kamias (belimbi fruit) and crushed chicharon (pork cracklings) to enhanced the flavor.
I first tried it at Asiong Restaurant in Cavite and since I love anything squid, I thought it would be nice to recreate it in my kitchen. It turned out delicious but still needs a little tweaking to make it perfect.
READ: ASIONG RESTAURANT IN CAVITE
WATCH THE VIDEO HERE:
What I did to make this is to cook like a bit soupy adobong pusit so the noodles can absorb a flavorful "stock", making it flavorful as well. I miscalculated my need for squid ink, though, so next time I'll stock up on more.
It's a habit of mine to freeze the squid ink whenever I cook squid and don't need it. So when I need it for other dishes, I tend to have more. This time though, I only have enough. I wanted the noodles sana to be a bit more black and have more squid flavor.
I hope you mommies give this a try. Ang sarap nya, promise!
OTHER RECIPES YOU MIGHT LOVE…
Print
Pancit Pusit with Kamias and Chicharon
1

+

2 tbsp

cooking oil

8

cloves garlic, chopped

1

small onion, chopped

1

medium carrot, julienned

2

stalks celery, sliced diagonally

1/4

cabbage, cut into pieces
salt and pepper to taste

2 tbsp

fish sauce (patis)

1/2 tsp

black pepper

300g

squid

1 cup

squid ink (squid ink sacs, mixed with water)

3 tbsp

vinegar

1 tbsp

sugar

250g

rice noodles (pancit bihon), soaked in water for 5 minutes
for serving
6

pieces kamias (belimbi fruit), sliced diagonally

1 cup

crushed chicharon (pork cracklings)
Instructions
Heat 1 tbsp oil in a wok and saute about 1/3 of the garlic and the onion until fragrant and translucent.
Add the carrots, celery, and cabbage. Saute until cooked but still crunchy.
Remove from the wok and transfer to a plate. Set aside.
In the same wok, heat 2 tbsp of oil. Saute the rest of the garlic until fragrant.
Add the squid and mix well.
Season with patis and bring it to a light simmer. Stir.
Remove the squid from the "sauce" and set aside.
Pour in the vinegar and bring to a boil before stirring.
Add the sugar and stir well. then add the black pepper.
Add the soaked rice noodles and mix continuously until it absorbs all of the liquid.
If you think it's still a bit dry, you may add 1/2 cup of chicken stock.
Continue mixing well until the noodles are cooked just right.
Add back the squid and the vegetables. Mix thoroughly.
Transfer to a serving plate and garnish with kamias and chicharon on top.
Enjoy.
♥ If you make this recipe, kindly snap a photo and tag @thepeachkitchen on Instagram (OR hashtag it #thepeachkitchen). I'd love to see what you cook!