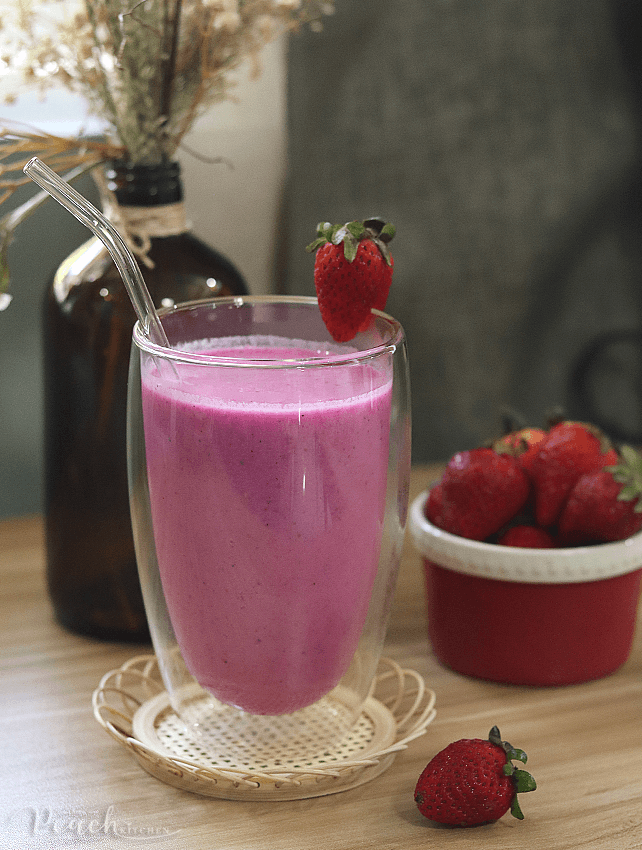 Hello mga mars! Eventhough it's raining the last few days, ang init pa rin. To cool us down during times like these, I often make smoothies. And my weapon of choice to combat the heat today is: Strawberry Dragonfruit and Banana Smoothie. Frozen strawberries and bananas are a staple here at home. I buy the frozen strawberries from SM kasi dun pinakamura at ₱95/500g. As for the bananas, those that would be overripe will be kept in the freezer for smoothies. Today, we just happen to have dragonfruit…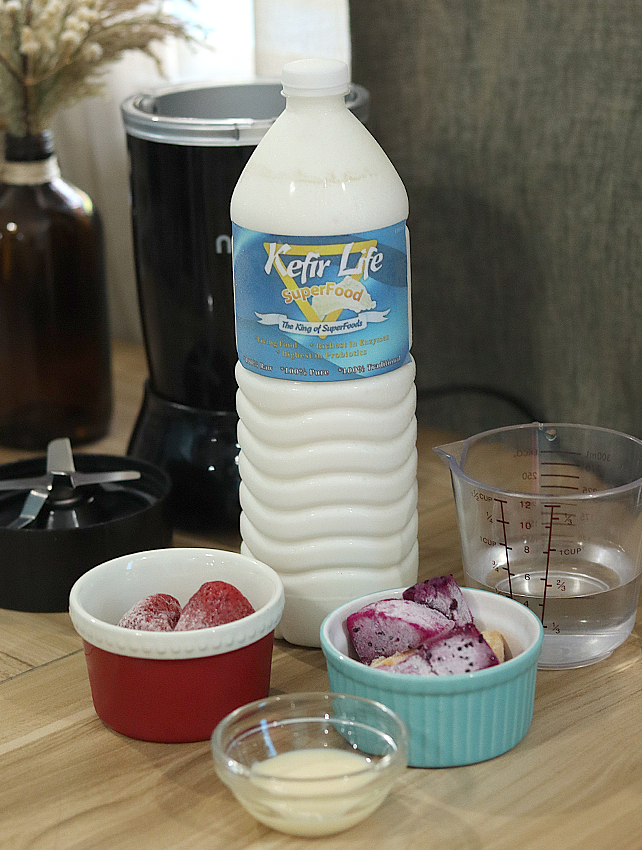 Aksheli, smoothies are a daily staple for me these days. I am trying out Kefir Milk because I heard it's good for hyperacidity.
WHAT IS KEFIR MILK?
Kefir Milk is a thick fermented milk drink. It tastes a bit like plain Greek yogurt – slightly sour and ultra-creamy. But even more so than yogurt, kefir milk is jam-packed with all kinds of gut-friendly probiotics! Studies suggest that it boosts your immune system, aids in digestive problems, improves bone health and may even combat cancer
In short para syang yogurt with three times more probiotic strains. The milk used to make kefir is fermented with a combination of 10 to 20 different types of probiotic bacteria and yeast, but the milk used to make yogurt is only fermented with a few.
So ayan. I actually heard it from a mommy group, one of the moms was able to stop drinking her meds for hyperacidity because of it. Ako rin hopefully mag-stop na rin sa meds, medyo kakasawa na kasi mag-meds..huhuhu.
Balitaan ko kayo if this could remedy my hyperacidity/LPRD.
OTHER SMOOTHIES YOU MIGHT LOVE…
Print
Strawberry, Dragonfruit, and Banana Smoothie
1/2 cup

frozen strawberries

1/2 cup

frozen bananas

1/2 cup

frozen dragon fruit

3/4

–

1

cup kefir milk

1 tbsp

condensed milk

1/4 cup

water
Instructions
Put everything in your blender and pulse until smooth and creamy.
You may more water to thin it out.
Garnish with s strawberry before serving
Enjoy!
♥

IF YOU MAKE THIS RECIPE, KINDLY SNAP A PHOTO AND TAG @THEPEACHKITCHEN ON INSTAGRAM (OR HASHTAG IT #THEPEACHKITCHEN). I'D LOVE TO SEE WHAT YOU COOK