Pork Afritada is a hearty Pinoy dish with tender pork in rich tomato gravy filled with fresh vegetables.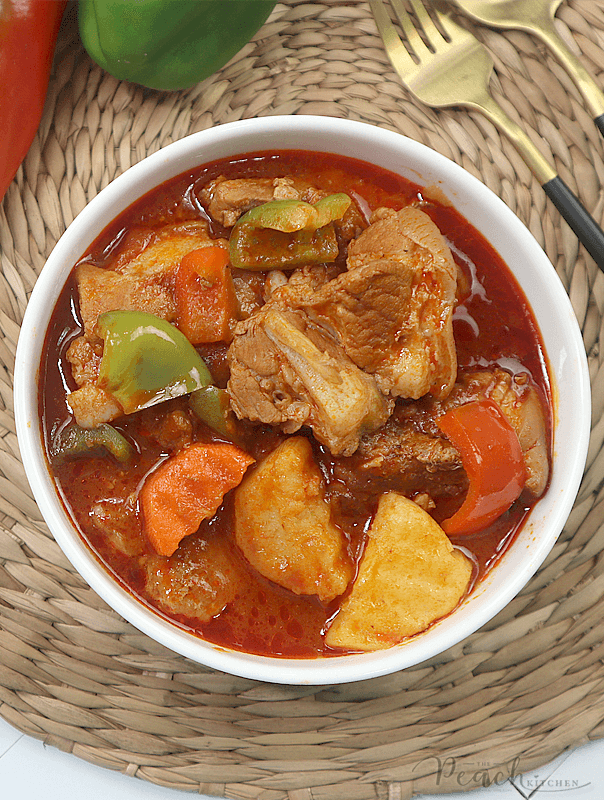 I love Afritada — the richness of the tomato gravy and the medley of flavors of the meat, potato, carrots, and bell peppers. Pinaka-gusto ko yung maraming bell pepper — so I put a lot. But to be honest, it's my first time to cook Pork Afritada, I always make the chicken version. Maybe because that's what I grew up eating.
Instead of using meaty pork parts like kasim or pigue, I decided to use something with bones. I figured it will make this dish more flavorful. Also, instead of tomato sauce, I used tomato paste because that's what I have available.
WATCH THE VIDEO HERE: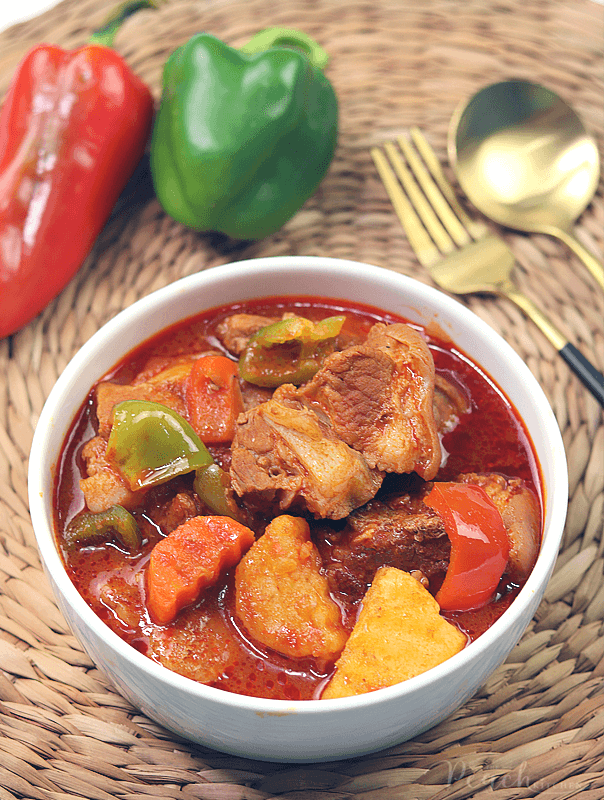 I think using pork made me realize how this dish is quite similar to menudo because of the vegetables and the tomato gravy but has it's unique flavor profile too. This is perfect served over steaming hot rice.
OTHER RECIPES YOU MIGHT LOVE…
Print
Pork Afritada
3 tbsp

cooking oil

2

potatoes, cut into pieces

1

carrot, cut into pieces

1

onion, chopped

3

cloves garlic, chopped finely

1

tomato, chopped

600g

pork kasim

1/2 cup

tomato paste

2 1/2 cups

water

1

pork cube

1

red bell pepper, cubed

1

green bell pepper, cubed

1 tbsp

patis
Instructions
Heat the oil in a pot. Fry the potatoes and carrot until cooked. Remove and set aside.
In the same pot, sauté the onion, garlic, and tomatoes for 2 minutes.
Add the pork pieces and cook until brown.
Add the tomato paste, water, and pork cube. Mix well.
Bring to a boil and simmer for 30-40 minutes, until the pork is tender.
Add the potatoes and carrots back.
Season with patis and let simmer for about 2 minutes.
Add the bell pepper and simmer for 30 seconds.
Turn off heat.
Serve with steamed rice.