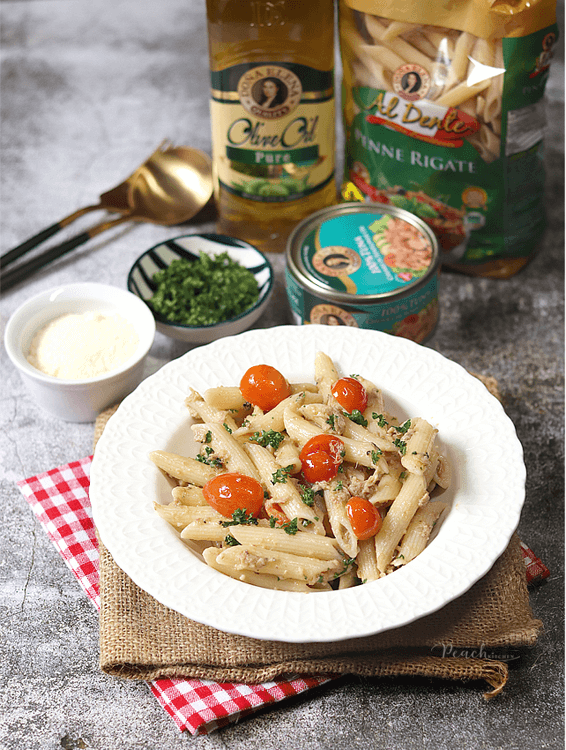 We all want to be healthy, right? And in order to do that we must eat healthy. But when we think of eating healthy, we think it's expensive. Sa totoo lang, eating healthy doesn't have to be expensive. It doesn't have to be difficult either. Today, I'm gonna share with you this 25-minute Olive Oil and Garlic Tuna Pasta that's so delicious and easy to make.
To tell you honestly, Ykaie doesn't like canned tuna. She doesn't like the taste of it but she told me that I'm the only person who can make her eat tuna kasi I give it a different taste. This is one of those tuna recipes that I make and that she loves.
All you need to do is cook the pasta according to package direction. You do this as you are cooking the sauce — heat your olive oil in a pan and sauté the garlic until it turns slightly brown. Then add the tomatoes and cook it for about a minute. Add your canned tuna and season with salt and pepper. Toss in your pasta when it's cooked and add pasta water. Adjust the seasoning and sprinkle fresh parsley and grated parmesan cheese before serving.
WATCH VIDEO HERE:
To make healthy recipes like this, I use Doña Elena Olive Oil. Doña Elena Olive Oils are a combination of two types of olives, hojiblanca and picual that makes it hands down a good source of high levels of good fats and antioxidants. Many people are intimidated of buying olive oil because they think it's pricey but it doesn't just elevate the taste of your cooking, it also gives you a lot of health benefits — some of which are it helps lower blood pressure and fight off diseases. It is also full of anti-oxidants and nutrients. Consider Olive Oil as an investment for your health, especially during this pandemic when we really need to boost our immune system.
Can I Use a Different Kind of Pasta?
Yes, I used penne for this recipe but you can also use spaghetti, linguine, your favorite pasta or any pasta at home that's available to you.
Is canned tuna healthy?
Canned tuna is packed with protein, as well as other nutrients like omega-3 fatty acids, selenium and vitamin D.
Hope you give this a try mommies!
Print
Olive Oil and Garlic Tuna Pasta
400g

Dona Elena Penne Pasta

1

can tuna, I used Dona Elena

⅓ cup

extra-virgin olive oil

5

garlic cloves, chopped

3/4 cup

cherry tomatoes, halved
Handful chopped Italian parsley
salt and pepper
grated parmesan cheese
Instructions
Cook pasta according to package direction, set aside.
Heat the oil in a large skillet over medium low heat for a minute. Toss in the garlic and tomatoes and cook just until the garlic starts to brown.
Add the tuna and saute for a minute.
Add the pasta and about 1/4 cup of pasta water.
Add the parsley and season with salt and pepper.
Mix well.
Sprinkle with parmesan cheese before serving