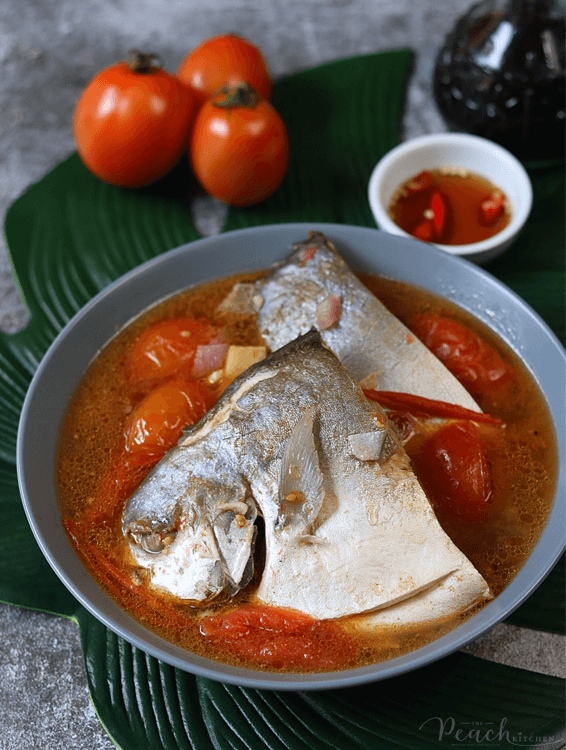 To be honest with you, Pinangat na Isda is not a favorite when I was young — I dunno — maybe I just prefer eating more red meat back then. But now, Pinangat na Pompano sa Kamatis is one of my favorite dishes and Pompano is one of my favorite fishes. It's a bit pricey but it's flavorful, malaman, at hindi matinik.
Pinangat is the easiest dish to cook too! It's just fish simmered in water and a souring agent of your choice — like tomatoes or kamias. I love the combination of tomatoes and kamias as souring agent but I wasn't able to find kamias at the wet market the other day kaya kamatis na lang ang ginamit ko. Also, this version of Pinangat has toyo — simply because that's what DaddyDoodleDoo likes at kabilin-bilinan nya na lagyan ng toyo tong Pinangat na to. Ewan ko ba dyan, ang dami nya na ngang toyo — gusto pa may extra toyo ang ulam.. LELz.. joke. Of course, masarap pa rin ang kinalabasan! Mas malasa kasi may extra umami taste from the soy sauce. Pero kung hindi nyo naman bet, okay lang din without the toyo.
WATCH THE VIDEO HERE:

Print
Pinangat na Pompano sa Kamatis
2

Pompano fish, cut in half

2 tbsp

cooking oil

3

cloves garlic. minced

1

onion,chopped

1

-inch knob ginger, sliced

4

large tomatoes, quartered

3 cups

water

2 tbsp

soy sauce

1 tbsp

sinigang mix

1 tbsp

patis
Instructions
Heat oil in a deep pan and sauté garlic, onion, and ginger until fragrant and onions are translucent.
Add the tomatoes and cook for 1 more minute. Pour in water.
Add the sinigang mix and stir. Simmer for 3 minutes.
Add the pompano fish.
Simmer until fish is cooked. Season with patis.
Serve with steamed rice.