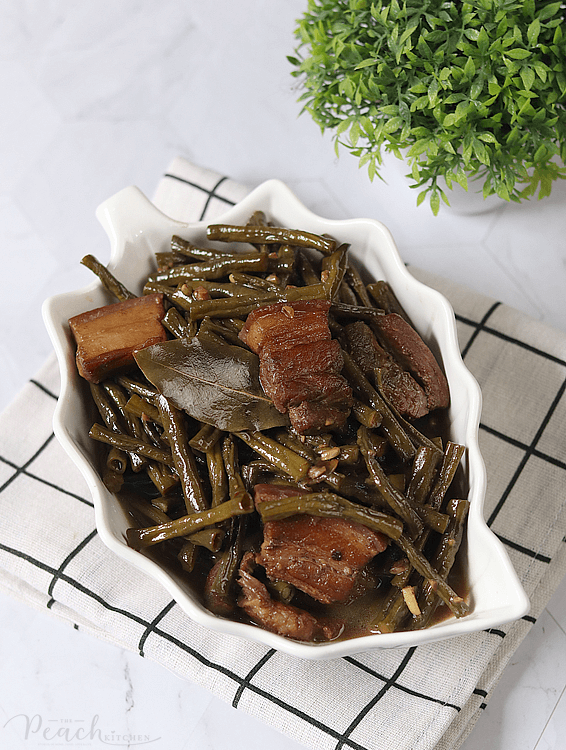 Sa totoo lang, ang gusto ko talaga sa ADOBONG SITAW ay yung labog na labog ang sitaw. But because I am sharing it with you, I thought it should look nice in the photo so I tried a different method in cooking.
Adobong Sitaw is one of my favorite viands in the whole world. It's snake beans cooked in soy sauce and vinegar — adobo style. I added pork belly to make it more flavorful. But if you are vegan or is trying to be healthy, you can use tofu or chicken instead.
WATCH THE VIDEO HERE:
To cook this Adobong Sitaw, I fried the pork belly first before sautéeing it in garlic. Then I added the soy sauce, water, sugar, bay leaf, and vinegar. Mixed it well and simmered it for about 20 minutes until the pork belly becomes tender. Then I added the sitaw and cooked it for about 10 minutes.
Next time I'll also blog about how I cook it to make it "labog". LELz.
Print
Adobong Sitaw with Pork Belly
300g

pork belly, cut into pieces

5

cloves garlic, chopped finely

1/3 cup

soy sauce

1 cup

water

2

bay leaf

1/3 cup

vinegar

1 tbsp

sugar

1 tbsp

patis

2

bunch sitaw (snake beans), cut into 1-2 inch pieces
Instructions
Fry pork belly until brown and it renders its own fat.
Add the garlic into the pan and cook until fragrant and a bit brown on the edges. Mix it with the pork belly.
Add soy sauce, water, and bay leaf. Simmer for 20 minutes.
Add the vinegar and wait for it to boil. Add the sugar and patis and mix well.
Add the sitaw and simmer for 5-10 more minutes depending on how much you want your sitaw cooked.
Serve with steamed rice.