This Tinapa and Truffle Yellow Soybean pasta is a gourmet pasta dish that tastes absolutely amazing while secretly being healthy!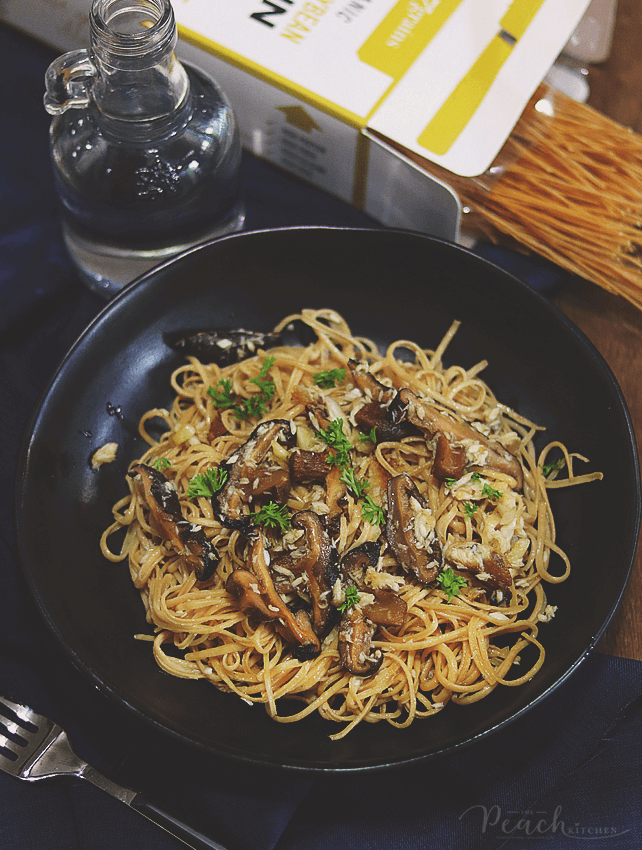 Hi guys! Hope you had a great Easter and is ready for the rest of the year with new hope, love, and happiness. Forgive me from my mini vacation from the blog because I was quite busy getting ready with our family getaway and Twinkle's Pineapple Party (which I have yet to share with you, btw). After that came the Holy Week…and everything was put on pause — even the Low Carb Intermittent Fasting Diet I was planning on.
Anyway, even before Twinkle's Pineapple Party, I started preparing low carb and healthier meals for the family again. It stopped during the holidays and continued until the first quarter of the year because, well, we love to eat. But clothes started getting tighter and sugars are becoming high…it's about time we go back to healthier eating and this time I promise not to go back to super unhealthy eating and indulging every day.
I wanted to do the Low-Carb diet but not the hardcore one wherein you can only eat eggs, meat, and seafood all of the time. Although I've heard a lot about it, I also want to somehow be balanced and have the liberty to eat a little bit of everything — especially pasta… because we love pasta.
The past lent, I was able to cook two pasta dishes using 7 Grains Yellow Soybean Protein Pasta.
We've been loving this Yellow Soybean Protein Pasta from 7 Grains Pantry because it's low calories, has lower carbs than traditional pasta, rich in fiber, and high in proteins. Also, it's just made with organic yellow soybean and water. No preservatives and other chemicals plus it's easy to cook pa because it's cooked al dente in five minutes. What's not to love, diba?
To make this Tinapa and Truffle Yellow Soybean Pasta is really simple. You just have to sauté the garlic in olive oil until fragrant. Add the tinapa and shiitake mushrooms and sauté for another 30 seconds. Add the cooked Yellow Soybean Pasta and season with salt and pepper to taste. Make sure to taste first because sometimes, the saltiness of the tinapa is enough and you don't have to add salt anymore. Turn off heat and add the truffle oil. You can add as little or as much as you want depending on how much you love truffle. It may be just a few drops or a tablespoon. Give the pasta a little toss and it's ready for serving! This is healthy and delicious at the same time. If you don't have the truffle oil, you can leave it and add chili or pesto — it'll taste absolutely amazing as well.
If you'd like to try this Yellow Soybean Pasta, you may order at 7 Grains Pantry Facebook Page. Just send the a message and they will reply immediately. You'll also find many healthy and delicious products if you browse through their page.
For now, I'll leave you with the recipe below. Stay tuned, I have one more recipe coming next.
OTHER RECIPES YOU MIGHT LOVE…
Print
Tinapa and Truffle Yellow Soy Bean Pasta
1/2

box (around 100g) 7 Grains Organic Yellow Soybean Protein Pasta, cooked according to package direction
Instructions
Heat olive oil in a skillet and sauté garlic until fragrant.
Add the tinapa and the shiitake mushrooms and cook for 30-seconds
Add the cooked Yellow Soybean Protein Pasta and mix well.
Season with salt and pepper to taste.
Turn off heat and drizzle with truffle oil and give it another toss.
Transfer to your serving plate and sprinkle with parmesan cheese and chopped parsley before serving.
♥ If you make this recipe, kindly snap a photo and tag @thepeachkitchen on Instagram (OR hashtag it #thepeachkitchen). I'd love to see what you cook!