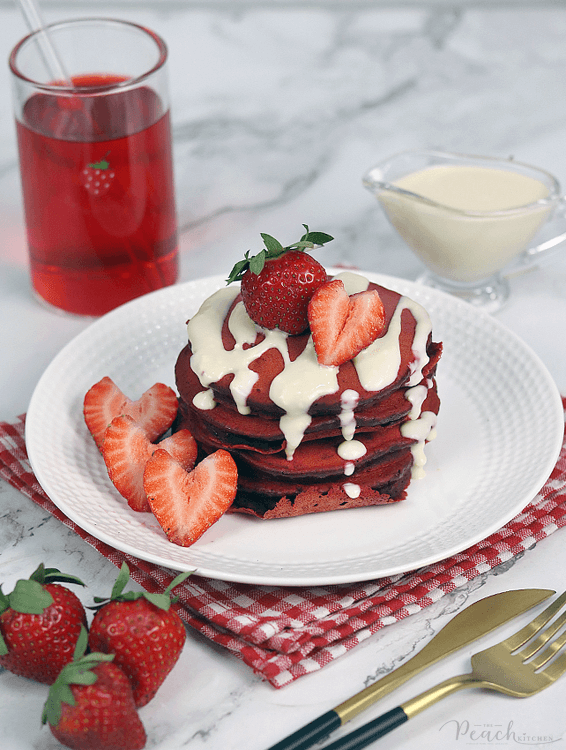 I love red velvet with cream cheese! And this Red Velvet Pancakes with Cream Cheese Sauce? This is just the perfect Valentine's Day breakfast.
And if you love Red Velvet Cake or cupcake then I'm absolutely sure you will also love these because it also has that cream cheese frosting you love in the form of a sauce.
WATCH THE VIDEO HERE: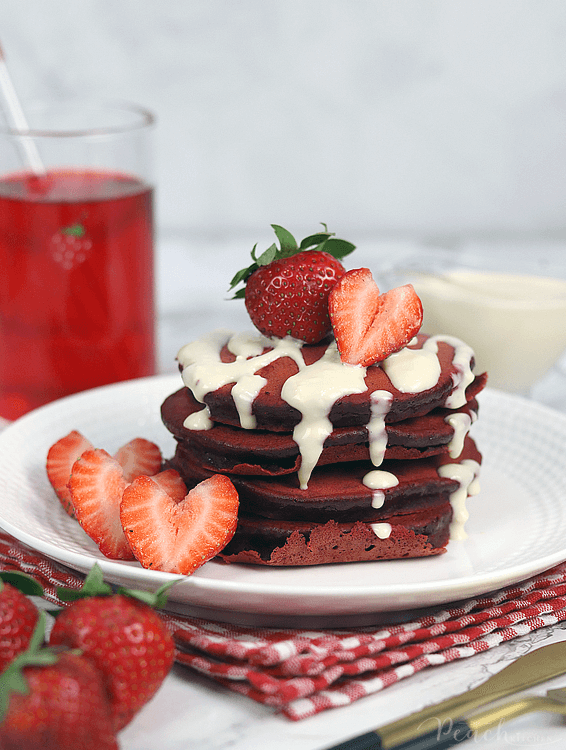 I made this using Red Velvet Cake Mix mixed with all-purpose flour but you can make this with any flavored cake mix you have OR just your favorite pancake mix and color it red. It just has this specific flavor when you use a Red Velvet Cake Mix — syempre lasa talagang red velvet unlike if you use say lemon cake mix or regular pancake mix. Yun nga lang it's a lot more budget-friendly if you use pancake mix and red food color, diba? Actually na-try ko na din yon before.. parang ganito…
Kaya lang ibang level talaga kapag Red Velvet cake Mix… LOL!
Print
Red Velvet Pancakes with Cream Cheese Sauce
For the Pancakes
2 cups

red velvet cake mix

1/2 cup

all-purpose flour

1 1/4 cup

water ( or milk)

1

egg
butter for greasing the pan
Cream Cheese Sauce
4 ounces

cream cheese at room temperature

¼ cup

powdered sugar

5 tbsp

milk

1 tsp

vanilla
Instructions
In a medium bowl, combine the red velvet cake mix, flour, egg, and milk.Beat by hand for 2-3 minutes until the batter is fluffy.
Heat the skillet and grease with butter. Pour 1/4 cup of batter onto the skillet, spread out with a spoon if the batter is too thick.
Cook until the small bubbles begin to form of the pancake, flip and cook for no more then 1 minute. Keep a close eye on them while cooking so it doesn't burn.
Cook pancakes one by one until all are done.
Make the Cream Cheese Sauce: Beat cream cheese, powdered sugar, milk, and vanilla for 1-2 minutes by hand. Drizzle over pancakes and enjoy!