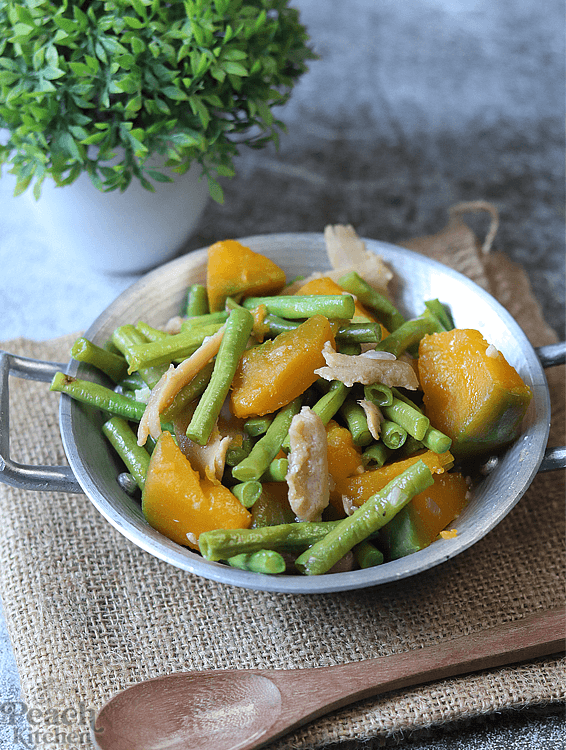 Pangarap ko talagang maging vegetarian. It's because I think it's a healthier diet and it's Acid Reflux -friendly. You know what's making it difficult for me? Ang sarap kasi ng meat! Another reason is, it's really hard when you're the only one in your family who is eating plant-based AAAND I am the one who cooks for all of us. Ang hirap diba?
So my solution to this is to just have plant-based meals more often. I'm thinking of having plant-based meals twice a week to start. Tapos damay ko sila.. hihihi.
WATCH THIS GINISANG SITAW AT KALABASA RECIPE VIDEO
We are avid dairy user — especially butter. So when I saw this Sagana Coconut Spread which is a "vegan butter", I just had to try it. They said you can use this like how you use real butter – as spread on toast, for baking, and for cooking. I already tried it on toast and it tastes good naman. I also used this in cooking this Ginisang Sitaw and Kalabasa for it to become more flavorful.
Print
Ginisang Sitaw at Kalabasa
2 tbsp

Sagana Coconut Spread

3

cloves garlic, inced

1

onion, chopped

1/2

pack Omni Pork Strips

1

glass water

3 cups

squash, cut into pieces

4 cups

sitaw, cut into

1

-inch pieces

2 tsp

all-purpose seasoning granules

2 tsp

patis
pepper
Instructions
Heat the Sagana Cococnut Spread in a pan.
Sauté the garlic and onion until onion becomes translucent.
Add Omni Pork Strips and cook for about 1-2 minutes.
Add squash, sitaw, and water. Mix well.
Cover and simmer until vegetables are cooked.
Add all-around seasoning granules. Mix well.
Adjust seasoning with patis and pepper. Mix well.
Serve with rice.