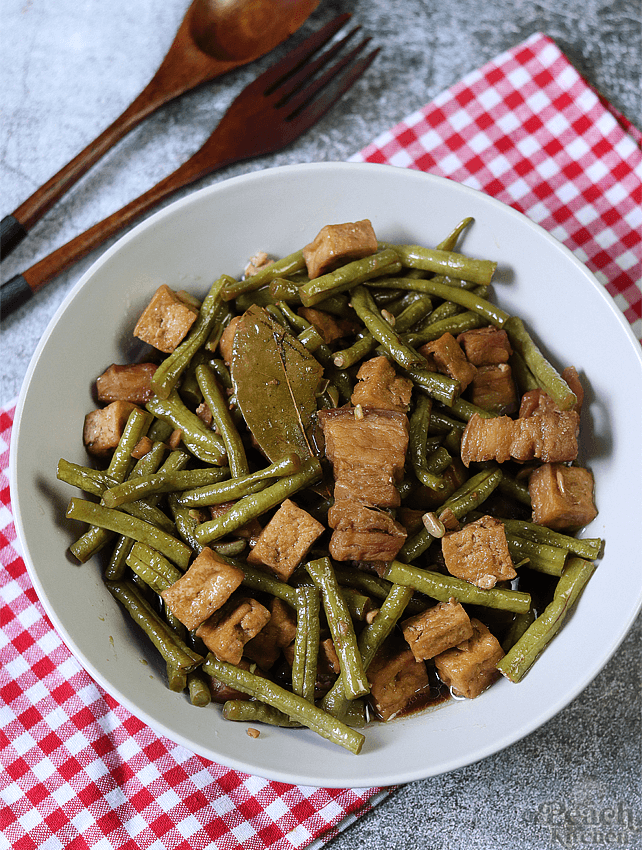 I wanted to change my diet to a plant-based diet. My reason is because it's healthy and it would be a great help with my Silent Reflux (or Laryngopharyngeal Reflux). But it's really hard because I love food — and I love meat – it's too delicious to give up… huhuhu
So first I thought, I'd have a Flexitarian Diet where in I would be eat plant-based meals five days a week and have meat twice a week. But it's also too difficult because of the schedule adjustment with the kids starting school and my family not really into the plant-based lifestyle. So I thought, I'd just cook and eat as much plant-based food as I can — yung kung kaya lang ng schedule.
And today nga, I decided to cook Adobong Sitaw with Tofu but then again I thought my family won't like it because they are used to Adobong Sitaw with Pork Belly — so what I did was I just added tofu in my usual dish.
Watch: Adobong Sitaw with Tofu and Pork Recipe Video
I just ate through our ulam and picked the sitaw and tofu….
Haaay, kaya ko kaya ang mag-plant-based diet? What do you think?

Print
Adobong Sitaw with Tofu and Pork
200g

pork belly, cut into pieces

1/2

block tofu, cut into cubes

4 tbsp

cooking oil

5

cloves garlic, chopped finely

1/4 cup

soy sauce

1 cup

water

2

bay leaf

1/4 cup

vinegar

1 tbsp

sugar

1 tbsp

patis

1

bunch sitaw (snake beans), cut into 1-2 inch pieces
Instructions
Heat oil in a pan and fry the tofu until brown. Remove and set aside.
Remove excess oil and fry pork belly until brown.
Add the garlic into the pan and cook until fragrant and a bit brown on the edges. Mix it with the pork belly.
Add soy sauce, water, and bay leaf. Simmer for 15 minutes.
Add the vinegar and wait for it to boil. Add the sugar and patis and mix well.
Add the tofu.
Add the sitaw and simmer for 5-10 more minutes depending on how much you want your sitaw cooked.
Serve with steamed rice.