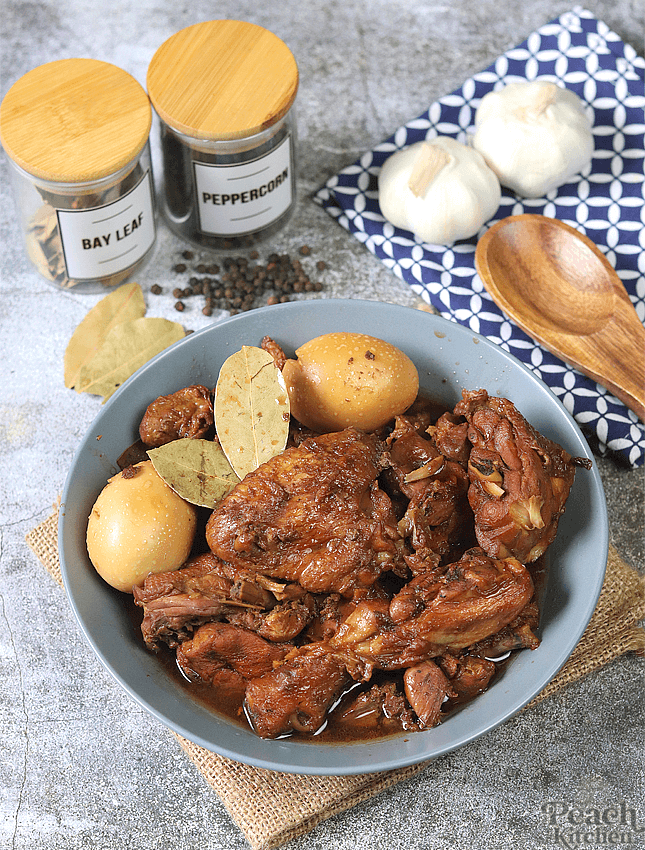 There are so many versions of Adobo. There's Pork Ribs Adobo, Adobong Sitaw with Pork Belly, Chicken Adobo sa Puti with Tanglad.. and the list goes on and on. Same goes for Chicken Adobo — each household has their own version. Paano naman, this is an ulam that is always on the menu rotation. Why? because it's so easy to cook and uses minimal ingredients most of which you already have at home. There's soy sauce, vinegar, garlic, bay leaf, peppercorn.
Today, I'm sharing with you my adobo recipe. I like my Chicken Adobo with Egg. I like it with a balance of sweet, salty, and sour — and with a hint of oregano. Yes, that's one of the twists of this recipe. I add a teaspoon of dried oregano and it makes it more flavorful.
Anong twist ng Chicken Adobo mo? Share it naman sa comment section so I can also try it.
Print
Chicken Adobo with Egg
1

kg chicken pieces

1 tbsp

seasoning granules, optional

3 tbsp

oil

8

cloves garlic, minced

1/3 cup

soy sauce

1 cup

water

2

bay leaf

1/2 tsp

peppercorns

300g

chicken liver, washed and cut into pieces

1/2 cup

vinegar

1 tbsp

brown sugar

1 tsp

dried oregano
patis and pepper, to taste
Instructions
Season chicken pieces with seasoning granules, if using.
Heat oil in a wok and fry chicken pieces for 2 minutes on each side.
In the same pan, sauté the garlic until a bit brown.
Add the chicken pieces, soy sauce, water, peppercorns, and bay leaf. Bring to a boil and simmer for 20 minutes.
Add the vinegar and bring to a simmer.
Add the brown sugar and oregano. Stir. Simmer for 10 more minutes
Season with patis, if needed and pepper.
Serve with steamed rice.