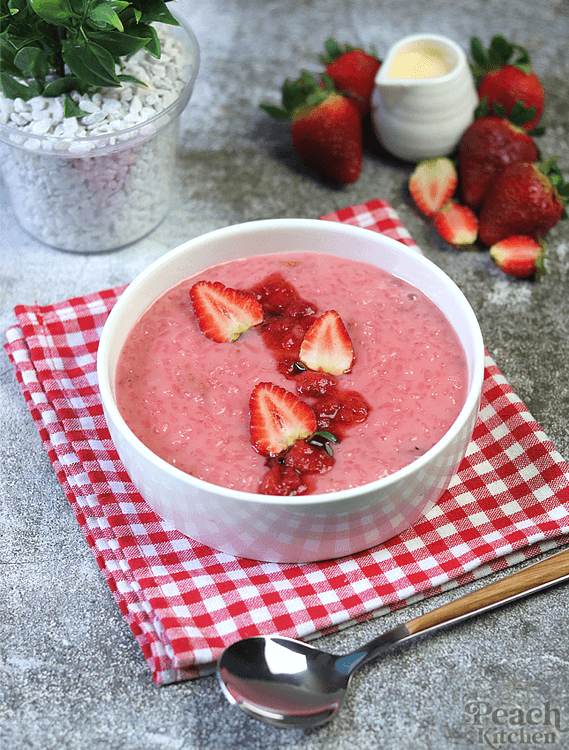 If you're a fan of Champorado, OR if you love strawberries like I do, then I'm sure you'll absolutely love this Strawberry Champorado! This unique fusion of flavors combines the comforting goodness of warm porridge with the vibrant sweetness and tanginess of ripe strawberries.
WATCH STRAWBERRY CHAMPORADO RECIPE HERE
A Brief History of Champorado
Champorado is a beloved Filipino comfort food that has been enjoyed for generations. It is traditionally made by cooking glutinous rice in cocoa powder and sweetened with sugar. This warm and chocolatey porridge is often served with tuyo and evaporated milk.
Check out my Classic Champorado and Ube Champorado recipe.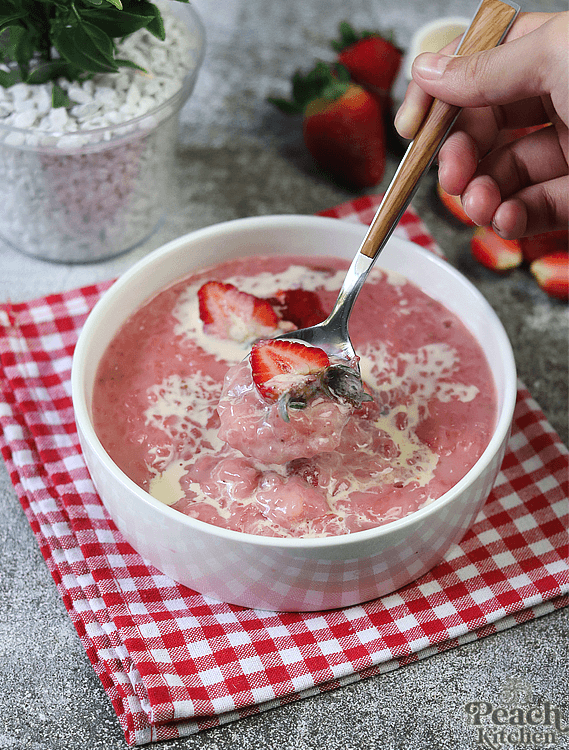 Serving Suggestions
Strawberry Champorado is a versatile treat that can be enjoyed any time of the day. Its unique flavor profile makes it perfect for breakfast, dessert, or even a comforting snack. You can add your own twist by experimenting with different toppings such as crushed nuts, chocolate shavings, or even a scoop of vanilla ice cream! Or instead of serving it hot or warm, you can also serve it chilled.
So why not give this this recipe a whirl? It's a wonderful way to explore new flavors and experiences.
Note:
You can use fresh or frozen strawberries. I used frozen strawberries dun sa minix ko sa porridge but I used fresh for the garnish.
Print
Strawberry Champorado
1.5 cup

frozen strawberries

1 tbsp

sugar

1 cup

glutinous rice

4 cups

water

1 tsp

strawberry extract (or more)

1 tsp

salt

1/2 cup

condensed milk
evaporated milk for serving
fresh strawberry for garnish
Instructions
Combine frozen strawberries and sugar in a pan. Thaw and bring to a boil. Turn off heat and set aside.
Pour the glutinous rice and water in a medium pot over medium heat. Stir.
Cover and bring to a boil.
Add cooked stawberries, strawberry extract, and salt.
Reduce heat to low and simmer for about 15-20 minutes or until the glutinous rice is cooked.
Stir regularly to prevent scorching and sticking. You may add water if necessary to get your desired consistency.
Add condensed milk and mix well.  You may add more depending on your desired taste.
Serve topped with fresh strawberries and evaporated milk.
Enjoy!