Filipino-Style Garlic Butter Shrimp minus the lemon soda, gives you a rich garlic-butter sauce for drizzling over steamed rice.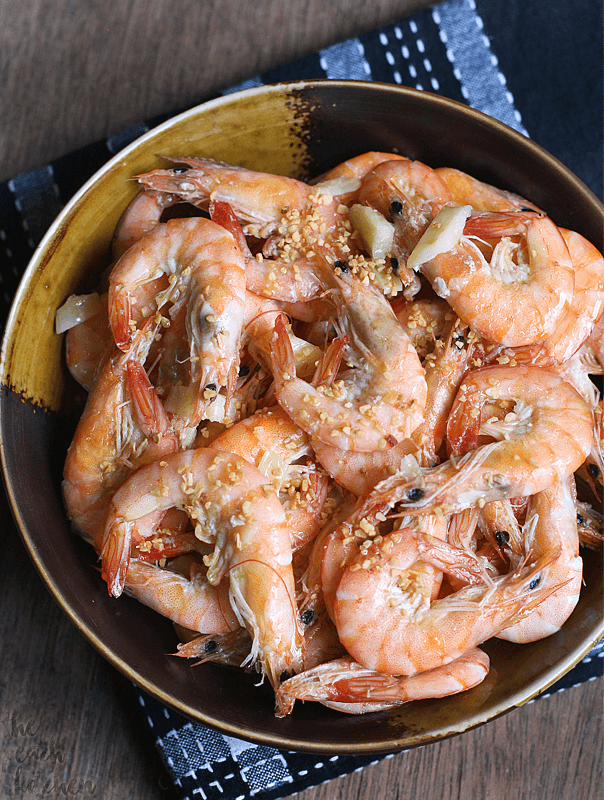 These shrimp came in fresh from harvest in Pampanga last week. It's a mixture of big and small shrimps that had nothing better to do that morning peanutbutter♥ took it home than soak in a rich garlic-butter sauce. Well, the only ingredients available in the fridge that day is just for turning these fresh shrimps into Filipino-Style Garlic Butter Shrimps. It's the easiest recipe that yields the yummiest result especially with freshly-caught shrimp.
In other news, I had the most relaxing sleep last night.
A couple of years ago, I loved sleeping without pillows on my head, instead I put them under my tired feet. There's something about my back lying flatly and so relaxed on the mattress that I find so comforting.
When I got pregnant with Twinkle and my weight started ballooning, I started sleeping on my side. Whenever I tried to sleep without a pillow I end up feeling like I'm gonna drown. Last night, there was a sudden urge to sleep just like how I used to. I felt so tired that I wanted my back flat on the mattress so I removed my pillow, lied on my back, and propped my feet. It's been such a long time since I had a relaxing sleep..
And I think that's how I'm gonna sleep again tonight.
Nothing to do with Shrimps at all… LOL! I know it's completely unrelated but I just had to share!
Happy Monday!
Print
Garlic Butter Shrimp
500g

Shrimp

3/4 cup

butter

8

cloves garlic, minced

4 tbsp

calamansi juice
salt to taste
fried minced garlic for garnish (optional)
Instructions
Melt the butter in a non-stick skillet in very low fire.
Then add garlic, saute for a few minutes until butter is infused with flavors of garlic but don't let the garlic turn brown.
Add the calamansi juice. Season with salt to taste. Mix Well.
Add the shrimps, cook until it turns orange.
Transfer to your serving dish and garnish with fried garlic on top.