Garlic Parmesan Broccoli and Potato Wedges is a healthy potato recipe that is perfect as a snack or a side dish..
It has been almost a month of eating healthier and I've learned a lot of lessons about it. One lesson I'm gonna be sharing with you today is about US potatoes. You see, I've been on a diet a lot of times and in most of those diets I've been antagonizing US potatoes and categorizing it as a "bad" food to eat. I've avoided eating it thinking it is one of the culprits that is making me fat.
(I've told you before that we are big potato eaters and we love US potatoes because it is already pre-prepared, pre-cut, pre-cooked making it so much easier to prepare.)
These days, it's been one of the sources of my carbs. I've learned that it is not the US potatoes per se that is making me fat but how I prepare it and how much US potatoes I've been eating. When prepared properly, US potatoes can aid in living a healthier eating lifestyle and even lessen the risk of heart ailments.
Do you know why? It's because US potatoes are excellent source of vitamin C, a good source of potassium (more than a banana!), vitamin B6, and is naturally fat, sodium, and cholesterol free.It contains a variety of phytonutrients that have antioxidant activity. Among these important health-promoting compounds are carotenoids, flavonoids, and caffeic acid, as well as unique tuber storage proteins, such as patatin, which exhibit activity against free radicals.
Most of all, all a medium sized potato only contains 110 calories. See how healthy it is? It really boils down to the preparation and the portion that you are going to eat.
Today, I'm gonna share with one of my healthy US Potato recipe that is perfect both as a snack or a side dish: Garlic Parmesan Broccoli and Potato Wedges.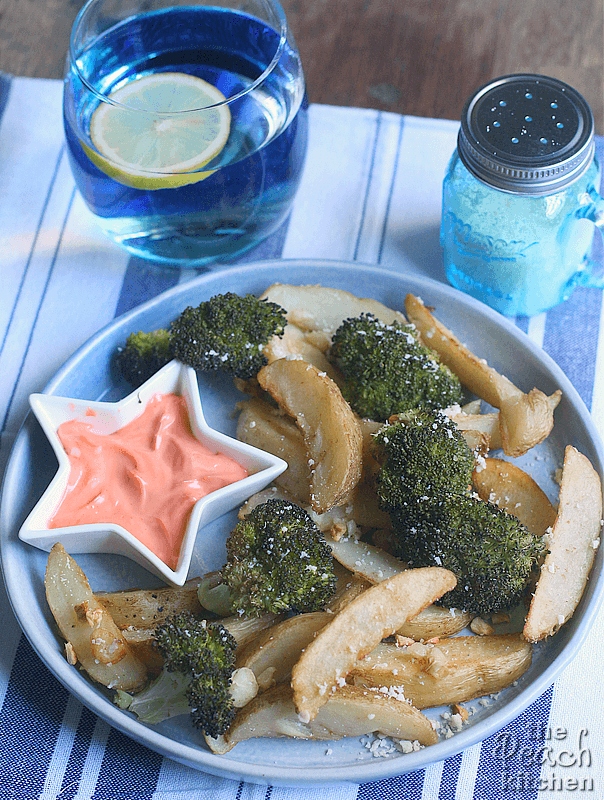 This Garlic Parmesan Broccoli and Potato Wedges recipe can be shared by 3-4 people. I love eating this with grilled chicken breast or broiled fish. It is so easy to make too! All you need to do is season the broccoli florets and potato wedges with salt, parmesan cheese, and garlic then bake it until cooked. You may choose to have this with or without the mayo sriracha dipping sauce! Oh it's so good, I tell you! It tastes good, it's good for the tummy, and it's good for the heart too! Let me share with you the the reasons why.
5 Reasons US Potatoes Are Good For Your Heart
 US Potatoes are cholesterol-free and have zero saturated fat. According to the 2010 Dietary guidelines by the USDA and Department of Health and Human Services, potatoes have no cholesterol or saturated fat. While many factors affect heart disease, diets low in cholesterol and saturated fat may reduce its risk.
US Potatoes are a good source of potassium and low in sodium. Diets containing foods that include potassium and are low in sodium may reduce the risk of high blood pressure and stroke. Potatoes with skin are loaded with potassium — more than bananas, spinach or broccoli — and are naturally sodium free. That is why I always choose to cook potatoes with their skin on.
US Potatoes are a good source of fiber. A medium potato with skin contributes 2 grams of fiber, which provides 8% of the daily value per serving. Dietary fiber has been shown to have numerous health benefits, including improving blood lipid levels, regulating blood glucose, and increasing satiety (makes you feel full longer), which may help with weight loss.
US Potatoes are an excellent source of Vitamin C. Vitamin C protects arteries from the damaging effects of cholesterol. Potatoes rank in the top 5 of dietary sources of vitamin C for Americans, and provide 45% of the daily value.
US Potatoes are a good source of Vitamin B6. Vitamin B6 is required for the synthesis of hemoglobin and essential component of red blood cells. It also helps reduce levels of homocysteine, of which high levels have been implicated in heart disease and stroke.
See? We shouldn't be afraid of adding US potatoes in our daily diet. Just make sure we don't add to much oil, cheese, fatty meats to it. Just like other produce, it will lose its health benefits if we do those things. Also, we should eat it in moderation to avoid too much calories.
To know more about US Potatoes drop by the US Potatoes Facebook Page.
♥ If you make this recipe, be sure to snap a photo and tag @thepeachkitchen on Instagram (OR hashtag it #thepeachkitchen). I'd love to see what you cook!
Print
Garlic Parmesan Broccoli and Potato Wedges + US Potatoes and Heart Health
500g

frozen US Potato wedges

2 cups

broccoli florets

5

cloves garlic, pressed.

1/4

grated parmesan cheese
Salt
Extra Virgin Olive Oil Spray
Dipping Sauce (optional)
2 tbsp

low fat mayo

1 tsp

sriracha
Instructions
Make Sriracha Mayo.: just combine low fat mayonnaise and sriracha in a small bowl and stir with a spoon. Set aside
Use extra virgin olive oil spray to grease the baking pan
Place your frozen US Potatoes and broccoli florets in a single layer on a baking pan. Sprinkle with the pressed garlic and salt.
Give it a little toss to get some of the spray and to incorporate the garlic with the potato wedges and broccoli.
Bake in the oven at 375ºF (190ºC) for 20 minutes or until brown and crispy.
Remove from oven, sprinkle with grated parmesan cheese,.
Serve with Sriracha Mayo dipping sauce.