Made these Salmon Cakes with fresh salmon and Dehydrated US Potato, top it on a salad and it makes for a delicious light dinner…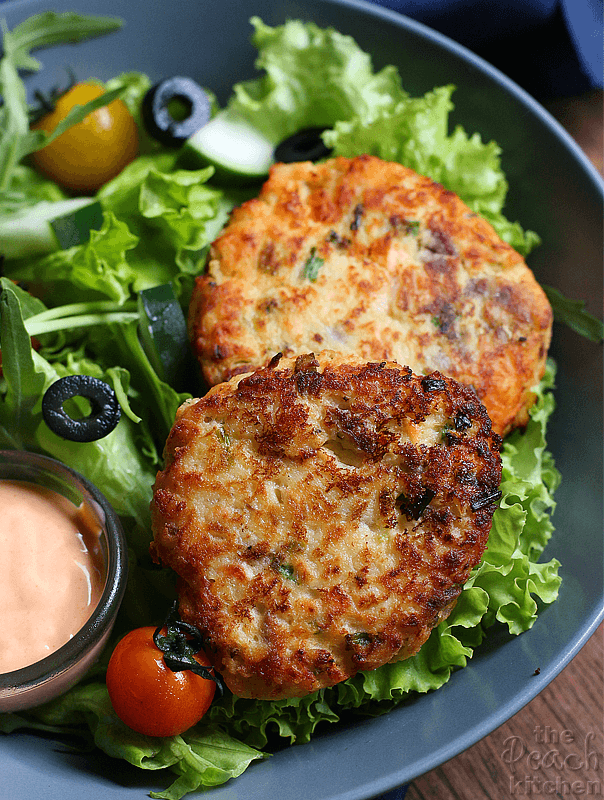 Congratulations to me! Weee! I feel like singing. I just got back from my check-up and everything came back normal: blood sugar, cholesterol, triglycerides. Hmmmm, and my doctor took me off one of my maintenance meds too. Oh I'm so happy!
I guess what I'm doing works, so I'm sticking with this diet for life — well, with occasional "cheat days" I suppose.. *wink*
I love Salmon but it can be a bit expensive when bought from the supermarket. There are times when I chance upon fresh ones at the palengke for a cheaper price. That's when I buy more then store it in the freezer for later use.
As promised, I'm sharing with you the recipe for the Salmon Cakes I mentioned in my 5 Day Meal Plan post yesterday. You can make this from freshly cooked salmon and mashed potato or if you have leftovers from yesterday's dinner, say like grilled salmon and garlic mashed potato, that would work too.
To make the mashed potatoes, I used Dehydrated US Potatoes. It's also popularly known as instant mashed potatoes, which you can make just by adding butter, milk, and water to it.
I flaked the cooked salmon and mixed it with the mashed potato, lemon juice, chives, mustard, egg, flour, salt and pepper. Then I formed this into a ball and dusted it with more flour so it won't stick. It was chilled in the fridge for one hour so it would firmer. Lastly, I fried it in olive oil until brown and crispy on the outside.
It was then served on top of a simple salad made with mixed greens, cucumber, black olives , and tomato with a Sriracha Lemon Sauce. It was sooo good!
It has a crunch and a bite to it outside but inside it's soft, buttery, and creamy. We loved it!! peanutbutter♥ and Ykaie ate this with a little bit of rice. I had this as it is. The salad didn't need any dressing because of the Sriracha Lemon Sauce.
Print
Salmon Cake Using Dehydrated US Potatoes
2 cups

Mashed potatoes made with Dehydrated US Potatoes

2 cups

flaked steamed salmon

1

egg
juice of

half a

lemon

1 tbsp

mustard

1/4 cup

chopped fresh chives

1 tbsp

flour + more for dusting

1/2 tsp

salt

1/4 tsp

pepper
olive oil for frying
Sriracha Lemon Sauce
1/2 cup

light mayonnaise (or regular if you prefer)

4 tsp

Sriracha sauce
juice of

half a

lemon
salt and pepper to taste
For Serving
Mixed Greens (lettuce, arugula)
cherry tomatoes
black olives
sliced or chopped cucumber
Instructions
Make the Sriracha Lemon Sauce: Combine mayo, sriracha and lemon juice in a small bowl. Mix well and season with salt and pepper. Set aside for later.
Combine the mashed potatoes, flaked salmon, chives, lemon juice, mustard, flour, egg, salt and pepper in a large mixing bowl and mix well.
If it's too soft, you can add 1 more tbsp of flour.
Form it into a ball the size of a golf ball (or bigger if you prefer) and dust it off with extra flour. Put it into a plate and when you're done forming everything into a ball, chill in the fridge for at least 1 hour.
After 1 hour, heat olive oil in a pan. Put the salmon balls in the pan and flatten them slightly to form a patty.
Fry it until brown and crispy on the outside.
Serve it on top of the salad made out of mixed greens, cherry tomatoes, cucumber and black olives AND Sriracha Lemon Sauce on the side.
♥ If you make this recipe, kindly snap a photo and tag @thepeachkitchen on Instagram (OR hashtag it #thepeachkitchen). I'd love to see what you cook!