Simple, quick, and tasty, Aglio Olio can be made in 10 minutes — all you need are three ingredients…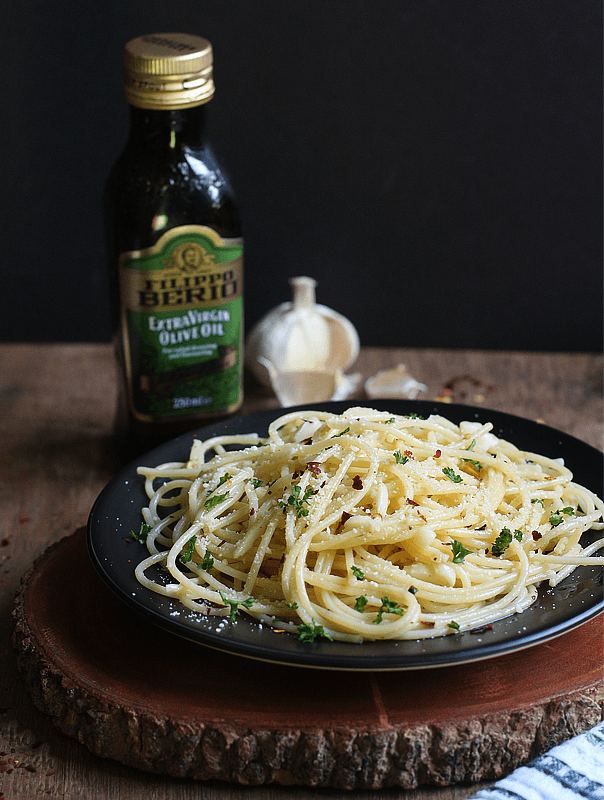 Aglio Olio is one of the easiest and basic sauce I know. Every sauce I know begins with a good olive oil and garlic… and pasta is known to survive with these two ingredients — and salt, of course. I am a big pasta fan and I love Aglio Olio because it actually takes ten minutes to make and you'll get a tasty and elegant dish. It's also versatile because you can just add any ingredient and get a whole new dish. You can add dried chili flakes when you want a little kick, you can add shrimps, clams, and mussels if you want seafood pasta, sausage or chorizo for meatier ones, and anchovies if you just want to just add a layer of flavor but still want that good ol' Aglio Olio flavor profile.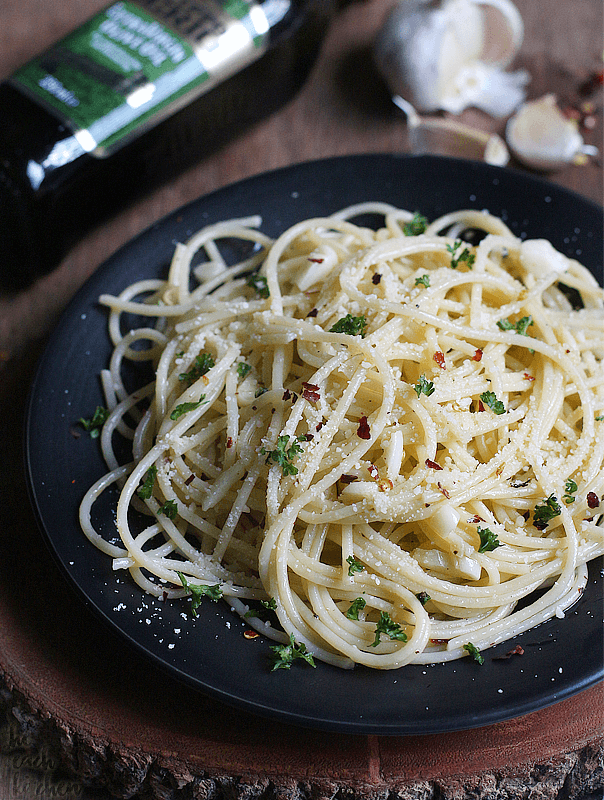 Unlike me, peanutbutter♥ wasn't a fan of Aglio Olio when we got married. He prefers thicker sauces like Bolognese and creamy, white sauces like that of Carbonara. Would you believe he's just recently changed his mind? After 9 long years of marriage and cooking different kinds of Aglio Olio, it's just now that he's learned to appreciate this simple yet flavorful pasta dish.
Now we enjoy this comfort-in-a-bowl specially on busy days and nights when we have no time to cook but we want something that's both satisfying and tasty.
Aglio Olio is a piece of cake to whip up on busy nights. The ingredients are pantry staples so you won't need to run into the store to buy them. All you need are pasta, garlic, and good extra virgin olive oil like that of Filippo Berio.
Filippo Berio is a world-famous and authentic, family run Italian brand. It's a brand that sprung out of passion and is committed to high quality standards beginning from the sourcing of the olives to harvesting, pressing, and blending up to bottling the final product.
It is made from the first cold-pressing of the finest olives, and is distinguished by its full flavor, low acidity, and deep greenish-gold color. This is how you know you get the value for your money.
When you're cooking with a good olive oil, you're certain that your dish will always taste great. You'll also get all the health benefits like cutting down bad cholesterol levels, decreasing chances of heart attack, preventing cancer, and decreasing stroke risks.
Pasta shouldn't be complicated. Sometimes simple and easy is all you need…. Aglio Olio should be in your menu plan this week!
Blooming Cheesy Pesto Bread
And just as promised, here's another recipe with one of Filippo Berio's yummy sauces — the Classic Pesto.
This Blooming Cheesy Pesto Bread is great eaten with the Aglio Olio Spaghetti. It's a great side dish to soup or meat dish especially if you're not eating rice or pasta but it can also be eaten alone as a snack.
It's also pretty and rustic and would be a great addition to any dinner table.
To know more about Filippo Berio, go to http://global.filippoberio.com/.
♥If you make this recipe, be sure to snap a photo and tag @thepeachkitchen on Instagram (OR hashtag it #thepeachkitchen). I'd love to see what you cook!
Print
Back To Basics: Aglio Olio with Filippo Berio
500g

Spaghetti

3/4 cup

Filippo Berio Extra Virgin Olive Oil

8

cloves garlic, crushed, peeled, and minced
Salt to taste
Optional
dried chili flakes
grated parmesan cheese
chopped parsley
Instructions
Bring a pot of water to a boil and cook pasta1 minute shy of what's in the package direction, reserving a cup of pasta water to be used later.
While pasta is cooking, heat olive oil in garlic in a saucepan until the garlic starts to sizzle. Continue cooking the garlic until it starts to brown on the edges and the oil is infused with the flavor of garlic.
If you want your Aglio Olio to have a little kick, you can add a bit of dried chili flakes and cook for 30 seconds more. Make sure you don't burn the garlic.
Add 1/2 cup of pasta water to the pan and simmer for 1-2 minute to form the sauce. Add Pasta to the pan and toss to coat wit the sauce.
Continue to simmer until there's almost no visible liquid left in the bottom of the pan.
Add Parmesan Cheese, more chili flakes, and chopped parsley.
Give it a little sauce before serving immediately.
Print
Blooming Cheesy Pesto Bread
sourdough or any round bread

1/4 cup

butter, melted

½ cup

Filippo Berio Classic Pesto Sauce

1 cup

shredded mozzarella cheese

½ cup

cheddar cheese, grated
Instructions
Carefully cut through bread in 1-inch intervals both ways (criss-cross), stopping about a ½-inch or so before cutting all the way through. Set aside.
Carefully spoon in the melted butter on the slits followed by the Filippo Berio Classic Pesto sauce.Make sure there's butter and pesto in between the cuts.
It should be followed by shredded mozzarella and cheddar cheese. make sure to tuck it in.
Wrap the bread in foil and bake in the oven at 350° F until cheese is bubbly and bread has "bloomed", about 15 minutes.
Remove foil and bake for another 10 minutes.
Remove from the oven and share with somebody you love and enjoy.