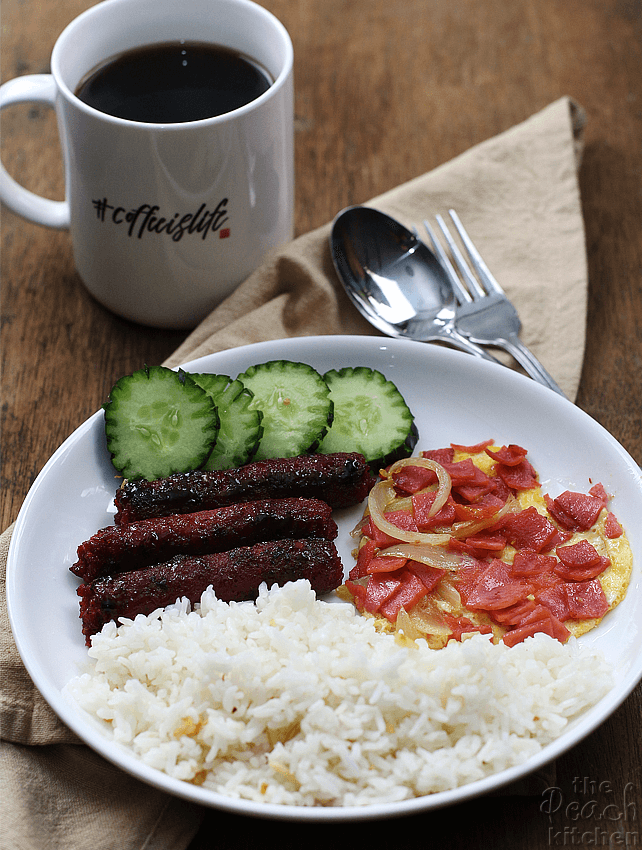 So it has been three months huh? Three months ago, I started a home business with Pampanga's Best.
Of course, starting a Pampanga's Best home business is the easiest way for us to earn extra. When I started this home business, a lot of things has been running on my mind then. Syempre, una na yung….Paano kung walang bumili? Anong gagawin namin sa ganung karaming Pampanga's Best products? Iuulam ba namin sya araw-araw? Syempre masarap, matutuwa ang mga chikitings. LOL! Pero sayang naman ang starting capital…
Ang liit lang ng neighborhood namin — baka walang bumili. Ang lapit lang ng grocery at palengke, dun na nasanay mamili ang mga kapitbahay — baka walang bumili.
I'm sure ganun din ang iniisip nyo, lalong-lalo na those who are planning to start the same home business.
CHOMPSiLog
Well, first foremost, trust the brand. Pampanga's Best has been around for 50 years. It is actually a household name when it comes to tocino, longanisa, ham, and other meat products. Remember, they are the first and original tocino maker in the world. And their products are born out of love and passion and they take all the necessary measure to make sure their products are clean and safe. So no need to worry — I don't think may hindi nakakakakilala sa Pampanga's Best.
But even though everyone knows Pampanga's Best, syempre kailangan natin i-push ng konti ang products so we can sell them.
So here are a few #HomeNegosyo Tips for you.
Unahin alukin ang family, friends, and neighbors. Best to sell first sa mga closest sayo. Ipangalandakan sa Facebook para yung mga friends mo medyo nakatira malayo sayo na gustong bumili, mag-order na lang at makipag-meet up. Hitting two birds in one stone pa, dahil na-meet mo na ang friend mo, nakapag-benta ka pa.

Put up a tarp banner and let the world know what you're selling! Instead of putting a tarp banner that simply says "Pampanga's Best Products Sold Here", I also added the photos and prices of the products para naman mas ma-attract ang mga neighbors, even passersby, na bumili. Dagdag pa natin ang dalawa kong tindera na ubod ng kulit!

If you can, sell your products for less than what they are selling at the nearby supermarket or grocery para mas maraming bumili sayo. It's gonna be your edge against them.
Always make sure you're well-stocked for the week. I always make sure to stock up on those products na mabili like #PampangasBestTocino, #ChompsBreakfastSausage, and #SkinlessLongganisa. I send in orders every monday so I won't run out of it even if they buy from me everyday.

Continue introducing new products to your customers so they will have more varieties to choose from.Right now, I am selling only 15 kinds of Pampanga's Best products. After almost three months, I feel like it's time to introduce some new ones to my neighbors like the Pampanga's Best BBQ Ribs above.

Find out your customers favorites and stock up with lots of those weekly. Never run out. By this time I already know that Chomps Breakfast Sausage, Original Tocino, Corned Beef, and Chicken Franks are my customers favorites. I get around 10-15 pieces per order from the distributor so I always have them in stock.
Those are just some of my tips. I'm still wingin' this home negosyo as I go along but I'm glad that I'm happy that I've started to inspire some friends, relatives, and readers to start their own  Pampanga's Best Home Negosyo! ? I've been receiving a lot of inquiries asking how they can become a Pampanga's Best dealer like me.
It really feels amazing knowing that you're inspiring people to start their own home business just by starting yours. It's true. Masaya kapag marami ng bumibili at may mga suki ka na. Selling Pampanga's Best products has even paved way for me to get to know people from other barangays. Suki ko na sila ngayon
So, in conclusion, why start a Pampanga's Best Home Business?
It has a low start up capital – Yes, for ₱5,000 initial purchase, you can already become a dealer. It has low overhead costs and a reasonable profit margin of more or less 20%.
It's convenient – This is perfect for stay-at-home or work-at-home parents who watch over their children. Anybody at home can sell it too. Madali magbenta, even your kids can do it.
It's a cash based business – it generates cash sales every day, pwera na lang kung nagpapautang ka… LOL!
It's low maintenance – no equipment to clean and maintain. Just kep on selling and re-order when your products are exhausted
Chicken ToSiLog
So far we are happy with this Pampanga's Best home business and after three months, we decided we're gonna keep it.I think we've finally found the perfect home business. It has been profitable and the neighbors are already used to us selling it. We don't miss a day without anyone buying from us. We are indeed on our way to the #SweetTasteOfSuccess.
To know more about Pampanga's Best, drop by www.pampangasbest.com/, or Pampanga's Best on Facebook.