Creamy, garlicky pasta sauce with smoky and flaky salmon on top of al dente spaghetti served with a refreshing citrus kick — done in 30 minutes, family approved, elegant enough for company — everything you want your pasta to be.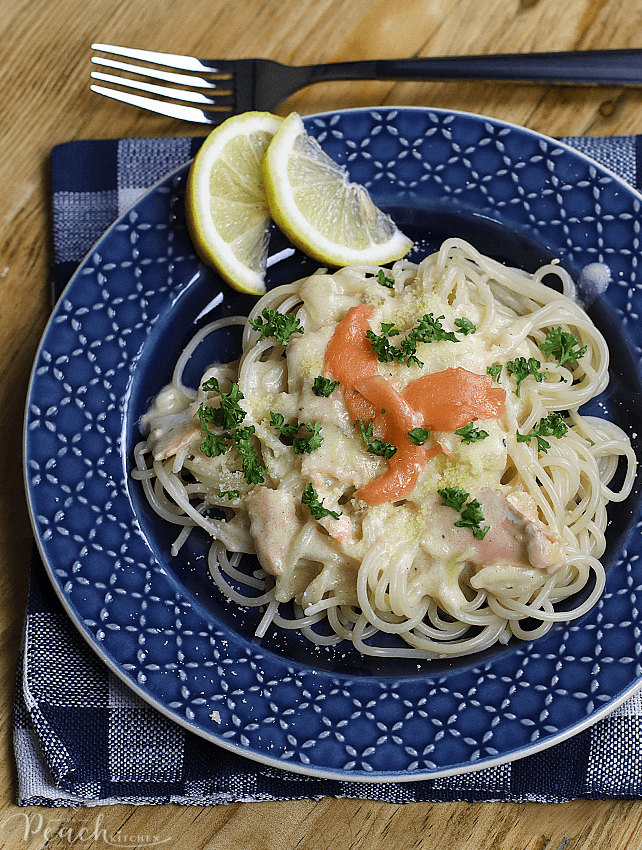 You might be wondering why I haven't done some cooking lately. Well, to be honest, I am cooking almost everyday here at home. It's just that I haven't been posting it. peanutbutter♥ and I are at it again, thinking of going keto (again!) versus food blogging our hearts out. Supposedly, this is gonna to be our second attempt but after careful deliberation (ahem) we finally decided –and accepted — that we can't go on full keto (believe me, we've tried) because we just love eating too much to let go of carbs and sugar. But we can avoid them for a long period of time.
You might be wondering why all this talk about going low carb. We all have to lose weight kasi, according to our doctor, including Ykaie, who is now 70 kg!
We decided to just go low carb as much as possible and eat healthier meals. So far, we are successful on avoiding sodas and too much sweets for a week now. Yay!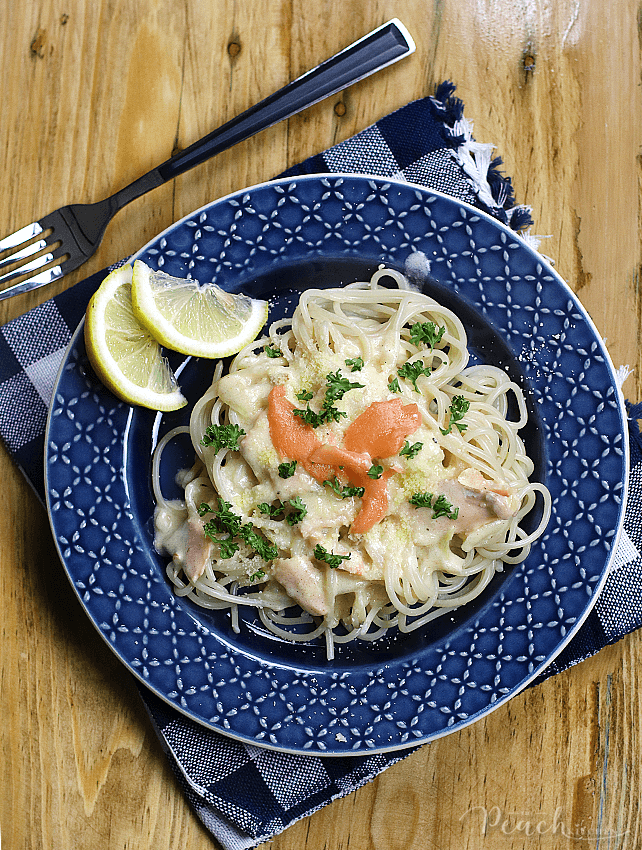 And today, I'm gonna be sharing with you this Smoked Salmon in Creamy Garlic Sauce Spaghetti. Someone gave us a pack of smoked salmon. We've eaten some of it with cream cheese and bagels. When we finished the bagels, I decided to just turn it into a pasta dish.
It's pretty easy to do, just sauté the garlic in heated butter and oil. When it's fragrant, you can add the all purpose cream and the salmon pieces and let the flavors marry together until it simmers. Squeeze your lemons and grate it so you can add the juice and the zest. If you find the sauce too thick, then you can add a bit of pasta water or chicken broth. Taste and season with salt and pepper to your liking. You can mix the spaghetti noodles into the sauce or you can serve it by scooping out the sauce on top of the spaghetti. Sprinkle with grated parmesan cheese and garnish with smoked salmon and chopped parsley before serving. Yum!
Hope you're having a great week, hustling mommas!
OTHER RECIPES YOU MIGHT LOVE…
Print
Smoked Salmon in Creamy Garlic Sauce Spaghetti
300g

spaghetti, cooked according to package direction with 1/2 cup of pasta water set aside

200g

smoked salmon, cut into bite size pieces

1 tbsp

butter

1 tbsp

olive oil

6

cloves garlic, minced
zest of

1

lemon

1tbsp

lemon juice

1 cup

all purpose cream

1/4 cup

pasta water or chicken broth
salt and pepper to taste
grated parmesan cheese
chopped fresh parsley and lemon slices for garnish
Instructions
Heat oil and butter in a skillet. Add garlic and sauté until fragrant.
Pour all purpose cream and mix well.Add the salmon pieces, setting aside a few pieces to top the pasta when serving.
Bring to a simmer and add the lemon juice and lemon zest.
If sauce is too thick, you can add the pasta water you set aside or some chicken broth.
Taste and season with salt and pepper as needed.
Mix well and bring to a simmer. Add cooked spaghetti noodles and mix well. Make sure pasta is well coated with sauce. (OR, you can also scoop out sauce on top of spaghetti)
Transfer spaghetti onto a serving plate. Top with chopped parsley, smoked salmon, and grated parmesan cheese.
Garnish with lemon slices on the side.
Serve and enjoy.
♥ If you make this recipe, kindly snap a photo and tag @thepeachkitchen on Instagram (OR hashtag it #thepeachkitchen). I'd love to see what you cook!