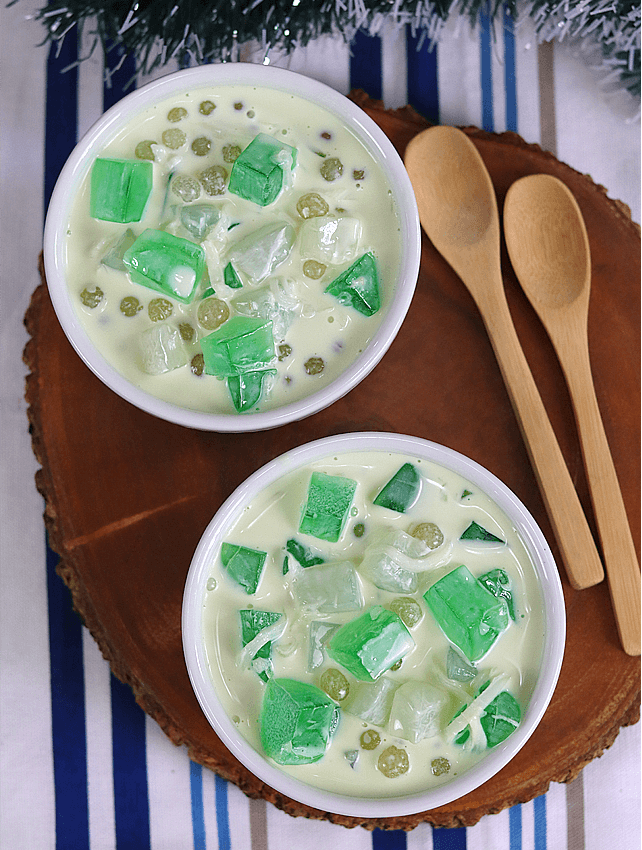 Buko Pandan is one of our favorite desserts!
I cannot count how many times I've made this at parati pa ring taob ang lalagyan. I guess this is just everybody's favorite especially because I make sure I use Nestle All Purpose Cream.It's the perfect partner if you want to make the creamy desserts like this.
I used to do all this from scratch. As in I buy raw Nata de Coco from the market and sweeten it myself. I use unflavored gelatin and flavor it with pandan leaves. Now that I don't have too much time on my hands, I just use ingredients that would make it easier for me without sacrificing this dessert's flavor and taste.
I use ready to eat sweetened Nata de Coco and pandan-flavored gelatin. For today's Buko Pandan Salad, I used Star (brand) Pandan gelatin. Okay naman sya, not too sweet. I just make sure to lessen the water to make the gelatin a bit chewy.
HOW TO MAKE BUKO PANDAN SALAD? Just put everything in a large bowl and mix well. If you want it sweeter, you can add a little more condensed milk. You can customize it however you want. You can add more pandan gelatin, more nata de coco, or more sago. Just make sure, you also adjust and add more Nestle All Purpose Cream and condensed milk. Then just chill in the fridge for a minimum of four hours and then serve to your family.
I'm sure they will love it!
P.S.
How's your December? Sorry for not updating as much. Ang busy ng Christmas season this year and I couldn't keep up…huhuhaha. Promise I'll make it up to you.
OTHER BUKO PANDAN RECIPES YOU MIGHT LOVE…
Print
Creamy Buko Pandan Salad
2

boxes of Buko Pandan Jelly, cooked according to package direction

1

large jar of Nata De Coco

2

(250ml) packs of Nestle Cream

1

can condensed milk
Meat of

3

coconuts, shredded

3 cups

of sago
Instructions
Cut gelatin into cubes when it solidifies. Set aside.
Strain Nata de Coco to remove the sugar syrup.
Combine all the ingredients in a large bowl and mix well.
You may put a few drops of creamy pandan extract for added flavor.
Put in a container and chill for 4 hours in the fridge.
Serve chilled.
♥ If you make this recipe, kindly snap a photo and tag @thepeachkitchen on Instagram (OR hashtag it #thepeachkitchen). I'd love to see what you cook!