This Creamy Chicken Adobo Pasta is one way to elevate your leftover chicken adobo and turn it into another delicious irresistible weeknight meal.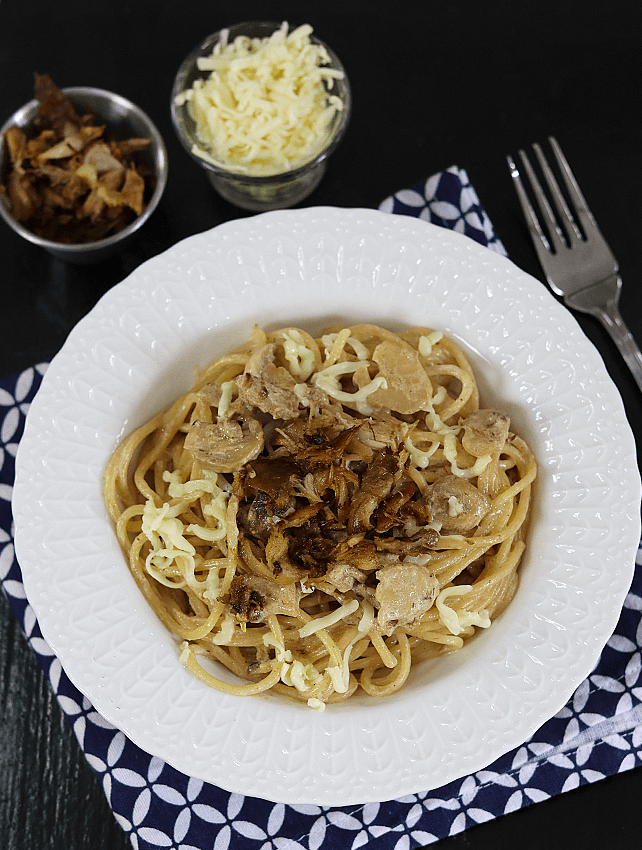 I know you'll agree when me when I tell you that Chicken Adobo is one of those dishes that only gets better when reheated the next day. Pero diba minsan, one of our dilemma as a mom is that parang paulit-ulit na lang ang ulam natin? Well, if you're looking for something that you can do with your leftover Chicken Adobo, you are in the right place!
You can surprise your loved ones with a new dish just by adding a creamy twist and turn it into this Creamy Chicken Adobo Pasta.
RELATED POST: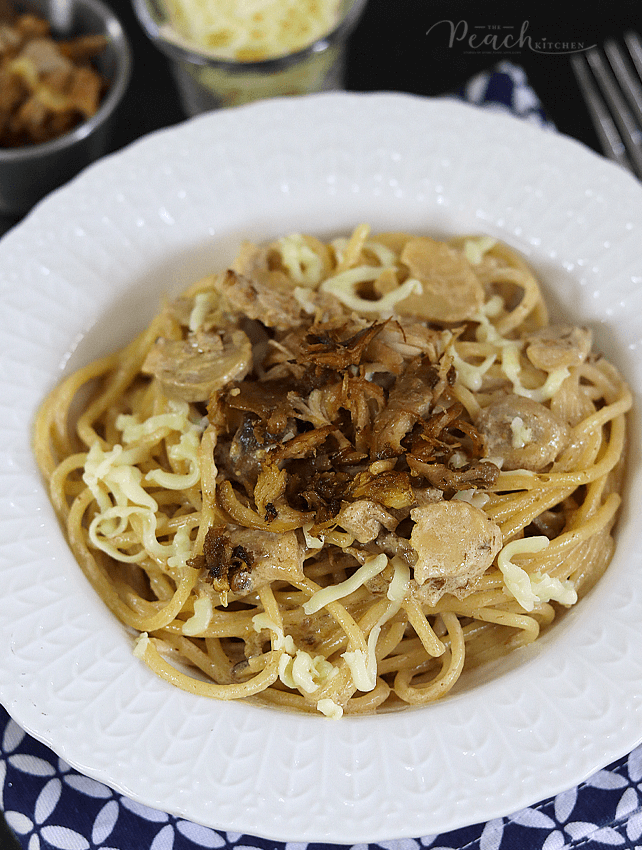 It's so easy to do as well! Just flake your leftover Chicken Chicken Adobo and reserve one cup of the sauce. Next is you have to sauté lots of minced garlic in butter and then fry your flakes chicken in it until a bit crispy. Set aside half of it for topping later and then you can pour in your adobo sauce in the pan and add sliced mushrooms. Pour in your Nestle All Purpose Cream and simmer for 1 minute. Sauce is now done and you can now toss your pasta. Make sure each noodle is coated with the delicious sauce!
Transfer to a plate and top with the crispy chicken adobo flakes and grated cheese before serving.
Saraaaaap!
Check out my Pinoy Fiesta Platelist at www.createwithcream.ph. This Creamy Chicken Adobo Pasta is a part of it. You can also discover more Platelists, your recipe list for every mood.
OTHER ADOBO RECIPES YOU MIGHT LOVE…
Print
Creamy Chicken Adobo Pasta
2 tbsp

butter

2 tbsp

garlic, minced

1 cup

leftover flaked chicken adobo

1 cup

reserved adobo sauce

1/2 cup

sliced button mushrooms

1

pack NESTLÉ® ALL PURPOSE CREAM 250ml

250g

spaghetti, cooked according to package direction
Grated cheddar cheese
Instructions
Melt butter in a saucepan and sauté garlic until brown.
Add leftover chicken adobo flakes and cook until desired crispness is achieved.
Remove half of the flakes from the pan and set aside. This will be for toppings later.
Pour in the reserved adobo sauce and bring to a boil.
Add mushrooms and cook for 30 seconds.
Pour in NESTLÉ ALL PURPOSE CREAM and bring to a simmer.
Toss spaghetti into the sauce and make sure it's mixed well.
Transfer to a serving plate and top with reserved adobo flakes and grated cheese before serving.
♥ If you make this recipe, kindly snap a photo and tag @thepeachkitchen on Instagram (OR hashtag it #thepeachkitchen). I'd love to see what you cook!