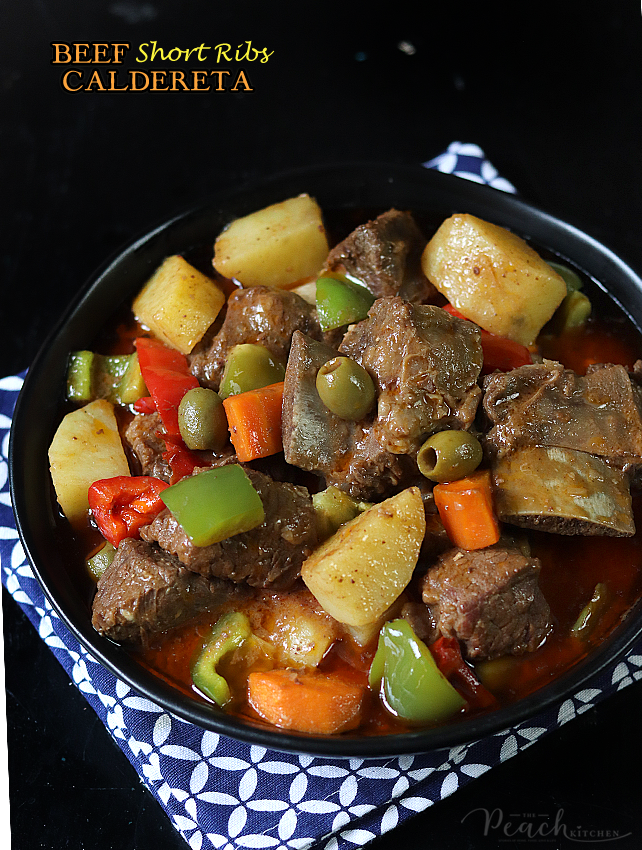 Beef Caldereta is one of our favorite ulams here at home. Alam naman natin na kapag Caldereta, "Sarsa pa lang, ulam na" and it tastes even better when reheated the next day because it becomes more flavorful! So it doesn't matter if I eat this for three straight days.
When we did the grocery last week, we saw a really nice beef short ribs that's just begging to be cooked into this tasty dish. I haven't tried cooking Beef Short Ribs Caldereta but I know it's going to be good because short ribs is very flavorful.
WATCH THE VIDEO OF MY CHEESY CALDERETA HERE: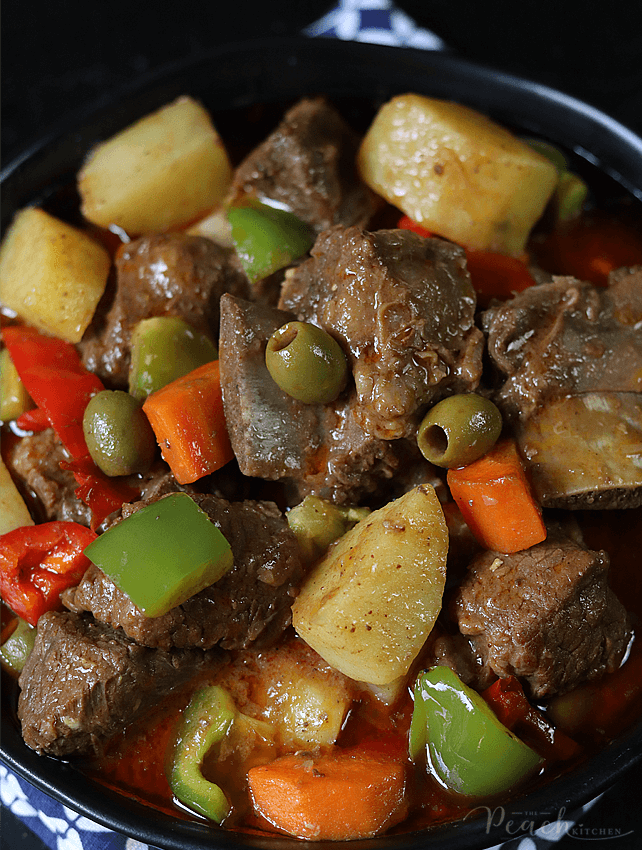 How do you cook Caldereta?
Cheese is not a must but I really like mine with coconut milk because it doesn't just make it rich and creamy but it adds a little bit of something-something…. LOL! Ay kennat explain! Basta ang sarap ng Caldereta kapag may gata! Of course, if you add cheese, it gives your Caldereta an extra "ooomph" too!
How long does it take to soften the beef?
To soften the beef, you can simmer it on low heat for 2 hours. But what I usually do is simmer it on low heat for only 1 hour and then pressure cook it for 30 minutes.
How about you mommies? How do you cook/like your Caldereta?
OTHER RECIPES YOU MIGHT LOVE…
Print
Beef Short Ribs Caldereta
4 tbsp

cooking oil

2

pcs potatoes, cut into pieces.

1

large carrot, cut into pieces

5

cloves garlic, minced

1

large white onion, chopped

1

kilo beef short ribs, cut into cubes

1

250g pack tomato sauce

2 cups

water

1

200ml pack of coconut milk, I used Coco Mama

1

small can of liver spread, I used reno

1

red bell pepper, cut into strips

1

green bell pepper, cut into strips

1 cup

pitted green olives

2 tbsp

fish sauce
pepper to taste
bird's eye chili (optional)
Instructions
Heat oil in a pot. Fry potatoes and carrots until cooked. Remove from pan and set aside.
In the same pan,sauté garlic and onion until onion becomes translucent.
Add beef and brown on all sides.
Add water and bring to a boil.
Pour in tomato sauce and half the coconut milk. Mix well. Bring to a boil and simmer in very low heat for 2 hours until beef becomes very tender, stirring frequently to prevent beef and sauce from sticking in the pot. Add water if needed.
What I do is simmer it for 1 hour and pressure cook it for 30 minutes.
Add liver spread and the rest of the coconut milk. Simmer for an additional 15 minutes.
Add fish sauce, potatoes, carrots, green olives, and bell pepper plus pepper to taste.
Add chopped bird's eye chili if you like it spicy. Simmer for an additional 2 minutes.
Serve with steamed rice.
♥ If you make this recipe, kindly snap a photo and tag @thepeachkitchen on Instagram (OR hashtag it #thepeachkitchen). I'd love to see what you cook!