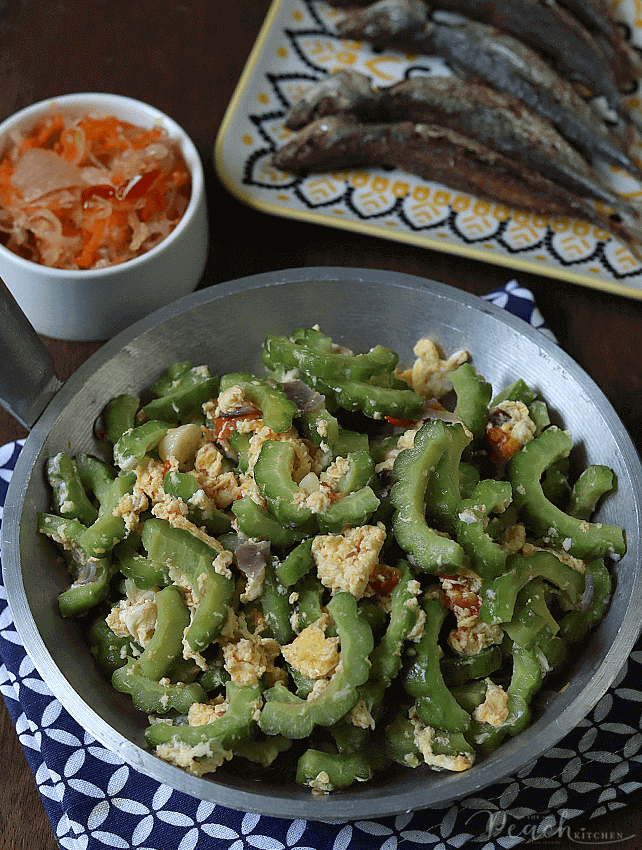 Ulamin, wag ugaliin… Ang Ampalaya.. Bow. Syempre hindi talaga masaya pag bitter tayo sa buhay kasi di lalapit sa atin ang blessings, diba?
Anyway, this is my most hated ulam when I was kid. Why? Because I can taste even the tiniest bitterness no matter how tasty my mother cooks this. These days — it's one of my favorites — because I know how healthy it can be. And no matter what you say, this just tastes delicious to me. My week won't be complete without Ginisang Ampalaya in it. Plus it's the easiest vegetable dish to cook so this can be an easy side dish to any meat dish even on your busiest day of the week.
How else do you cook ampalya mga mars?
OTHER RECIPES YOU MIGHT LOVE…
Print
Ginisang Ampalaya
2 tbsp

cooking oil

4

clove garlic, minced

1

onion, chopped

1

tomato,chopped

2

large ampalaya (bitter melon)

1/2 cup

water

1/2

chicken cube

2

eggs, beaten
salt and pepper to taste
Instructions
Cut bitter melon in half lengthwise. Remove seeds using spoon. Make sure you take out all the white stuff .
Slice it diagonally and put into a bowl. Smother it with salt, make sure each slice gets some salt into them and let it stand for about 5 minutes. Rinse it off with water and set aside.
Sauté garlic, onion, and tomato in heated oil. Add the chicken cube and the water. Stir until it is dissolved.
Add the ampalaya and simmer for about 5 minutes. Add the beaten egg on top and cover until egg is cooked.
Stir and season with salt and pepper to taste. Turn off heat and serve.
♥ If you make this recipe, kindly snap a photo and tag @thepeachkitchen on Instagram (OR hashtag it #thepeachkitchen). I'd love to see what you cook!