Bistek Na Bangus has that classic flavors of our traditional Bistek Tagalog or "beefsteak" — fragrant onions, savory soy sauce, and tangy calamansi — only it's made of fish and is a perfect good friday dish!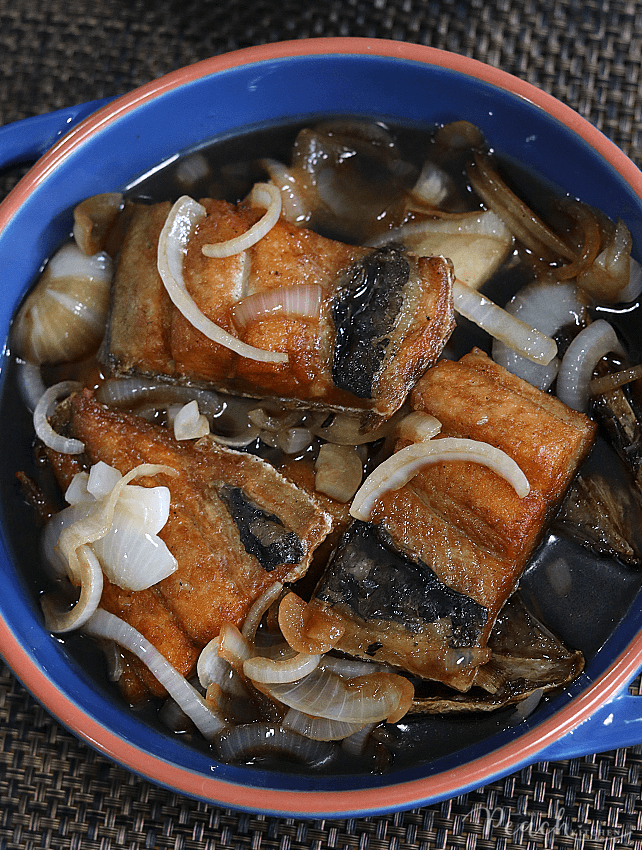 Since it's Good Friday today, it would have been a regular Monggo Friday for us as per tradition but because we usually go to the market on a per week basis now, I had to think of what to cook today based on what we have in the fridge. Good thing I was able to stock up on boneless bangus — and we have kitchen staples of onions, soy sauce, and calamansi! So we had Bistek Na Bangus for lunch. — and we had it with Garlic Fried Rice! So good together!
Bistek is one of our favorite ulams because it's one flavorful dish. peanutbutter♥ and Ykaie loves it in beef, of course, but I like fish (and pork) as well. Not only because it's budget-friendly but because it's so much healthier too.
I like frying the onions in the oil where the bangus will be fried so that it will be infused with its aroma and flavors and in turn make the fish tastier. Ang dali lang lutuin nito. Just fry the onions and fish and simmer in soy sauce, calamansi, water mixture — and it's done. Yun nga lang, medyo may labanan sa kusina habang piniprito ang bangus. Hiramin mo na lang ang shield ni Captain America..LELz.
What's your favorite Bangus Recipe? Share naman so I can try it as well!
OTHER FISH RECIPES YOU MIGHT LOVE…
Print
Bistek na Bangus
1

large deboned milkfish, cut into

6

2

large white onions, sliced

1/2 cup

cooking oil
salt and pepper

2 tbsp

soy sauce

1/4 cup

water

3 tbsp

calamansi juice
Instructions
Season milkfish with salt and pepper.
Heat oil in a pan and saute onions for about 20 seconds. Remove from pan and set aside.
In the same pan, fry the milkfish until brown, remove and set aside.
Remove oil from the pan except for 1 tbsp. Pour soy sauce and water. Stir and bring to a simmer.
Pour calamansi juice, mix well and add the bangus back and top with the white onions.
Cover the pan and Simmer for about 1-2 minutes.
Turn off heat. Serve with isang kalderong rice.
♥ If you make this recipe, be sure to snap a photo and tag @thepeachkitchen on Instagram (OR hashtag it #thepeachkitchen). I'd love to see what you cook!