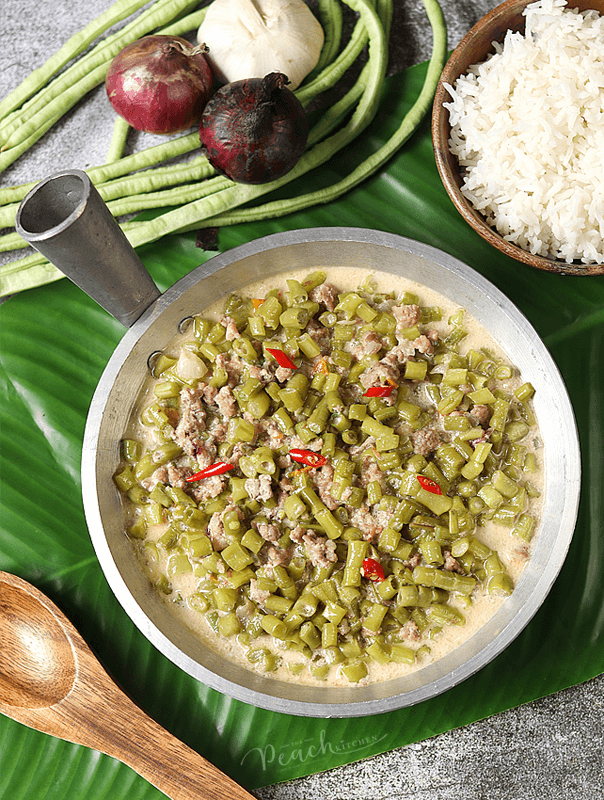 Gising- Gising is a Filipino dish which typically consists of baguio beans and ground pork cooked in coconut milk. The first time I cooked this dish was in 2011 and I used baguio beans cut into small pieces — I loved it back then and made it spicy. This time around, I used sitaw or long beans. I didn't put siling labuyo because, one, I can't eat spicy food na because of my acid reflux disease (LPRD). And two, my little Twinkle will be eating it and you know how kids cannot stand spicy food, right?
WATCH THE VIDEO HERE: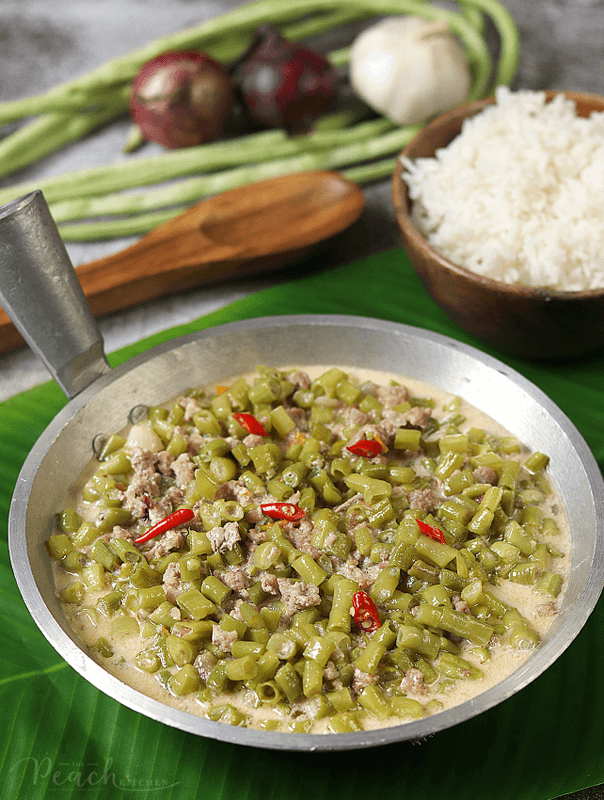 What I love about this dish aside from being easy to cook is that it's really delicious — like all ginataan dishes. Diba? unli rice talaga ang peg kapag anything ginataan ang ulam. Isa pa — this is also a budget friendly ulam. We can adjust and bawasan ang ground pork and add more sitaw kapag tight ang budget and it will still taste the same. Masarap pa rin. Syempre balik ECQ na naman tayo. Medyo kailangan natin mga mommies mag-budget ng matindi-tindi and at the same time serve yummy and healthy dishes to our families.
May iba pa ba kayong budget friendly ulams dyan? Share nyo naman in the comments section para magaya ko din.
NOTE:
I used sweet bagoong in making this dish, so I didn't add sugar anymore — as you saw, if you watched the video. But if you're using salty bagoong, don't forget to add sugar to balance the taste.
OTHER RECIPES YOU MIGHT LOVE…
Print
Gising Gising
2 tbsp

cooking oil

1

onion, chopped

3

cloves garlic, minced

1

tomato, chopped

200g

ground pork

2 tbsp

bagoong

1

large pack of coconut milk

½ cup

water

2

bunches sitaw, cut into small pieces

1 tbsp

sugar (if not using sweet bagoong)

1 tbsp

patis
chopped siling labuyo (optiona, if you want it spicy)
Instructions
In a pot, sauté garlic, onion, and tomato in heated oil for a few seconds.
Add ground pork, shrimp paste, and coconut milk. Simmer for 10 mins.
Add the sitaw. Cover and simmer for about 15 minutes until sitaw is cooked.
Add watyer if sauce becomes too thick.
Season with patis and add siling labuyo if you want it spicy
Turn off heat and serve with rice.