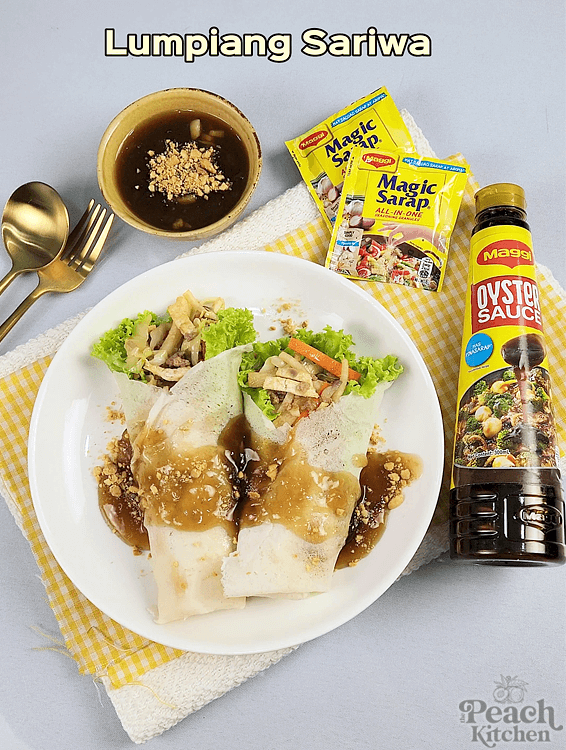 Lumpiang Sariwa is one of my favorite vegetable dishes. Aside from being budget-friendly, it's also acid-reflux-friendly, healthy, and delicious. It's also easy to make. All you need to do is to sauté the vegetables until cooked then season it with MAGGi magic sarap and MAGGi Oyster Sauce. As for the sauce, you just need toi combine all the ingredients together, simmer, and thicken it with cornstarch slurry.
Watch the Lumpiang Sariwa Recipe Video Here
You can eat it as is or wrap it in lumpia wrapper. Make sure to sprinkle it with crushed peanuts and minced garlic before serving to make it more flavorful.
Print
Easy Lumpiang Sariwa
2 tbsp

cooking oil

4

cloves garlic, minced

1

onion, chopped

1/2 cup

ground pork

1/2 cup

tokwa, cut into strips

1 cup

singkamas, cut into strips

1 cup

carrots, cut into strips

1/2

medium cabbage, cut into strips

1/2

sachet MAGGi Magic Sarap

2.5 tbsp

MAGGI Oyster Sauce
For the Lumpia Sauce
4

cloves garlic, minced

1/2 cup

brown sugar

2 cups

water

2 tbsp

MAGGi Oyster Sauce

1/2

sachet MAGGI Magic Sarap

1/4 tsp

ground pepper
cornstarch slurry – 2tbsp cornstarch + 2 tbsp water
Other:
lumpia Wrapper
lettuce
crushed peanuts
Instructions
Heat oil in a pan. Sauté garlic, onion, ground pork and tokwa. Add singkamas, carrot and cabbage. Season with MAGGI® Oyster Sauce and MAGGI® Magic Sarap®. Set aside to cool.
To prepare the sauce, mix garlic, brown sugar, MAGGI® Oyster Sauce, MAGGI® Magic Sarap®,pepper with water in a pot. Simmer and stir in cornstarch mixture to thicken the sauce. Transfer into a serving bowl and set aside.
To assemble, lay a piece lettuce leaf on top of a lumpia wrapper. Sprinkle 1 ½ tbsp of ground peanuts. Add ½ cup of the vegetable mixture. Fold the sides and roll tightly into a log. Repeat to assemble 6 pieces of lumpia. Serve with the sauce.