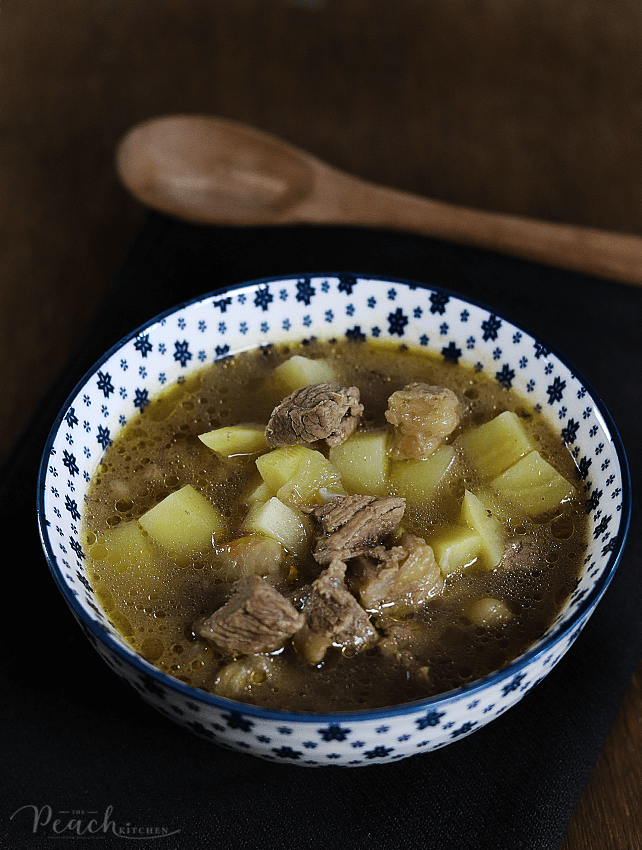 Hello mga kumare! I know I've been a little bit MIA in the kitchen lately and that is because life has once again become too busy. Hay, super overwhelmed ang lola with work, mommy life, wife life, and everything else in between. I've been adjusting and re-adjusting to everything including the ever-changing schedule of water interruption in our area. Kayo ba? Nakakalurky di ba?
I wasn't even able to start on that "healthy" eating because I am always "stress" eating.. LOL!
The Peach Kitchen Community
One of the things I've accomplished, though, is I was able to start a small mommy-foodie (or is that foodie-mommy?) community out there in facebook called The Peach Kitchen Community. You know how much of an introverted introvert I am so starting this little community made me sooo nervous. I had a lot of burning questions on my mind. What if nobody joins? What if ako lang ang matakaw? LELs… Guess what? A lot of you guys joined so thank you so much! You made coming out of my shell really easy.. heehee
And most of all I'm happy!! It's started out really quiet in there. I swear I heard some crickets chirping amidst the silence but now, you guys have started sharing what's for breakfast, lunch, merienda, dinner, and baon!! I am always excited to see what's new — just like choosing something to eat from the menu.
So you might be wondering about this Beef Picadillo Soup because picadillo has always been known as that ground pork with tomato sauce, right? Well, I grew up calling that one just plain ol' Pork Giniling or Ground Pork in Tomato Sauce. This is the Beef Picadillo I grew up eating and loving. As a matter of fact this is one of the first recipes I shared here at The Peach Kitchen.
My nanay usually cooks this dish using beef neck because it's one of the most flavorful part of beef due to the marbling of fat in the meat. But the thing is, you also have to boil it a little longer because it takes quite a while before it softens.
Today, I used beef sirloin because it's what readily and regularly available at the wet market or at the grocery. Cooking this is really easy. You just have to sauté the onion, tomato, and garlic in a little oil and then add the beef. Pour in the water and tamarind juice and simmer everything to tenderness. The oil from the beef is gonna come out and the soup will become really flavorful. That's when you'll add the potatoes (and carrots, if you're adding any). Just simmer until tender and season with patis (fish sauce) and pepper to taste.
This is going to be so delicious when eaten with steaming white rice!
WATCH THE VIDEO HERE:
OTHER RECIPES YOU MIGHT LOVE…
Print
Beef Picadillo Soup (Stewed Beef in Tamarind Broth)
500g

beef sirloin, cut into bite size pieces

¼

kg unripe tamarind, boiled in 1 cup water and juices squeezed out or
a packet of instant tamarind soup base

2

–

4

cups water

3

medium potatoes, cubed

1

medium onion, chopped

2

cloved garlic, minced

1

tomato,diced

2 tbsp

canola oil

2

pieces finger chili (siling haba)
moringa leaves (malunggay,optional)

2 tsp

patis
pepper to taste
Instructions
Heat oil in a pot.
Sauté onions, garlic and tomatoes until onions are translucent and tomatoes are wilted.
Add the cubed beef sirloin and cook for a minute.
Pour in water and tamarind juice (or add the tamarind soup base).
Bring to a boil then lower down the heat to a simmer.
Simmer for about 30 minutes until the beef becomes tender.
Add the potatoes and stir. Simmer until the potatoes are done.
Add patis and pepper. Taste and season as desired.
Add finger chili and moringa leaves, if you have.
Simmer for 30 seconds.
Serve hot as soup or with steamed rice.
♥ If you make this recipe, kindly snap a photo and tag @thepeachkitchen on Instagram (OR hashtag it #thepeachkitchen). I'd love to see what you cook!