THESE CHOCOLATE WALNUT BROWNIES ARE SO FUDGY AND CHOCOLATEY THAT YOU WON'T BELIEVE THEY ARE SUGAR FREE, LOW CARB AND KETO-FRIENDLY!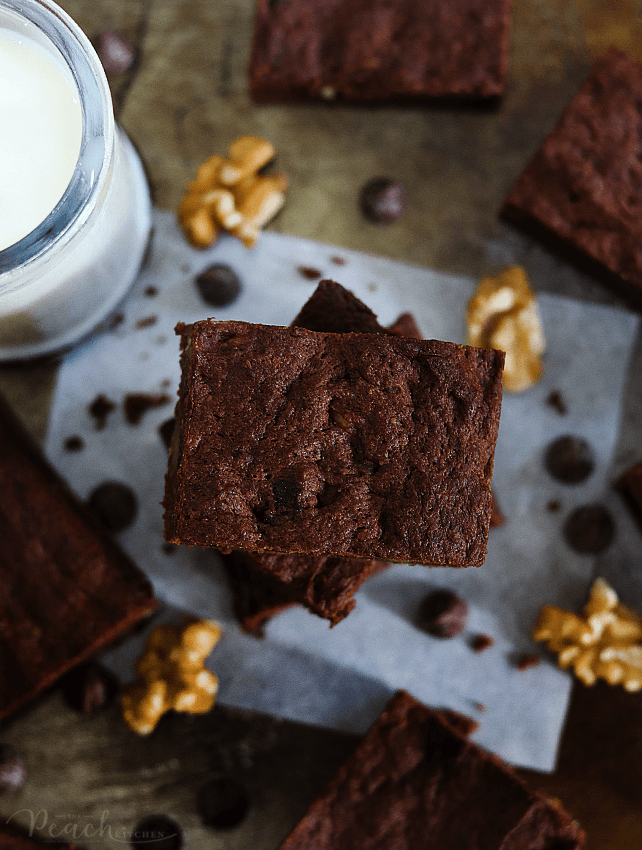 While we cannot keep a keto lifestyle or or LCIF way of eating, we are trying to eat low carb and sugar free most of the time to keep our blood sugar in a healthy level. I am continuously looking for a low carb and sugar free dessert or pastry recipe to keep my peanutbutter♥ from pairing his coffee with donuts.
And while I am okay with these recipes — well, I find them delicious — peanutbutter♥ doesn't and prefers the high carb versions. Hay naku! ang hirap i-please when it comes to sweets na pina-pair with his coffee. Kasi naman ang mga gusto ay: biscocho, puto seko, skyflakes na may nutella, and of course, donuts!
I made these Low Carb Sugar Free Brownies before and while they are delicious and fudgy, they are a bit crumbly. So last week, I made these babies and I thought I'd add Xanthan Gum into the mix to bind them together.
For these to be low carb, I used almond flour instead of regular flour and mixed it with cocoa powder, baking powder, and xanthan gum. I also used powdered erythritol (Swerve) instead of Equal Gold. The brownie batter turned out very sticky but the result is not crumbly anymore. I tried to look for sugar-free chocolate chips but I wasn't able to find any so I used Guittard extra dark chocolate chips again plus chopped walnuts.
I think the whole thing works. I wonder if adding sugar-free chocolate ganache on top of this would entice peanutbutter♥ in eating it? Hmmmnnn…
For you mommies who are looking for low carb dessert recipes, you might want to try this. It's really good but it's not that sweet, you might want to add more sweetener.
OTHER LOW CARB RECIPES YOU MIGHT LOVE…
Print
Low Carb Chocolate Walnut Brownies (Keto Friendly)
1/2 cup

salted butter, softened

1 cup

powdered erythritol

2

eggs

2 tsp

vanilla extract

3/4 cup

blanched finely ground almond flour

1/4 cup

cocoa powder

1 tsp

baking powder

1 tsp

xanthan gum

1/4 cup

extra dark chocolate chips

1/4 cup

chopped walnuts
Instructions
Preheat oven to 350ºF and prepare a square non-stick baking pan.
In a medium bowl, combine the almond flour, cocoa powder, baking powder, and xanthan gum.Mix well and set aside
In a large bowl, cream the butter and erythritol. Mix in the eggs and vanilla. Add the almond flour mixture and mix well.
Fold in chocolate chips and walnuts and scrape the batter into prepared 8×8 baking dish. It will be very sticky.
Bake for 25-30 minutes. Do the toothpick test and if it isn't done yet, bake for 5 more minutes. Let this cool before slicing. It may appear a little jiggly but almond flour sets as it cools.
Cut into 12 pieces and eat warm or keep in the fridge for later.
In my opinion, this is best eaten warm.
Notes
The nutrition information provided are only estimates based on an online nutritional calculator. I am not a certified nutritionist. Please consult a professional nutritionist or doctor for accurate information and any dietary restrictions and concerns you may have.
[foodie-nl id="29413″]
♥ If you make this recipe, kindly snap a photo and tag @thepeachkitchen on Instagram (OR hashtag it #thepeachkitchen). I'd love to see what you cook!