The easiest recipe for Chili Prawns with spicy butter sauce that's too good not to drizzle over rice…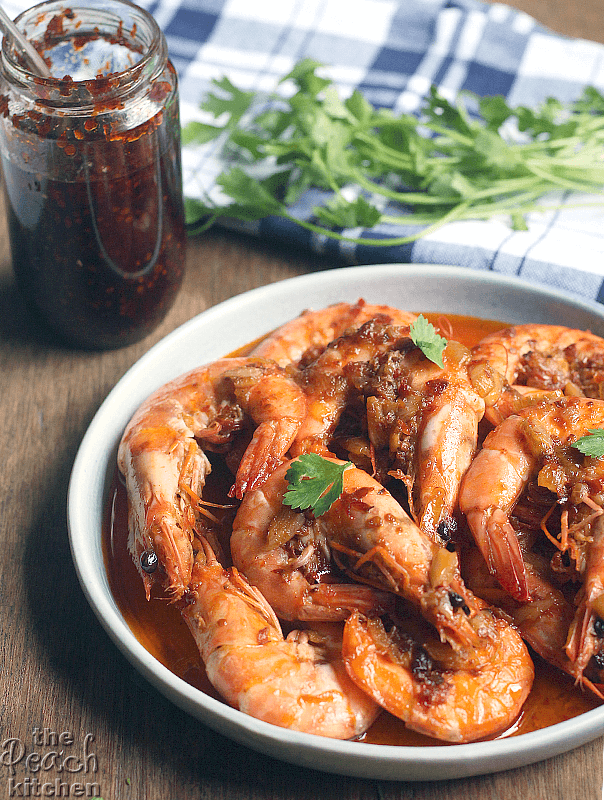 Somebody was craving for prawns the other day… and this easy Chili Prawns was just begging to be made. So this happened for lunch.
Well, it was more because I was road testing a few bottles of chili garlic that would be great with Chili Prawns. peanutbutter♥ was requesting Chili Prawns for lunch on Christmas Day and I just gave him a sneak preview of what he could indulge on. The first bottle of chili I tried was super duper hot! I believe I just got my tongue burnt but it was so so good too at the same time. Ykaie wanted it so much, she ate it with ice cream on the side to cool her off.. LOL!
This week before Christmas is the busiest week ever! I find myself with little to no sleep…and I felt so under the weather today.
Last Sunday was a celebration of Tita Becky's birthday. She treated us in Tagaytay and our first stop was to get coffee and hot choco at Bag of Beans in Twin Lakes.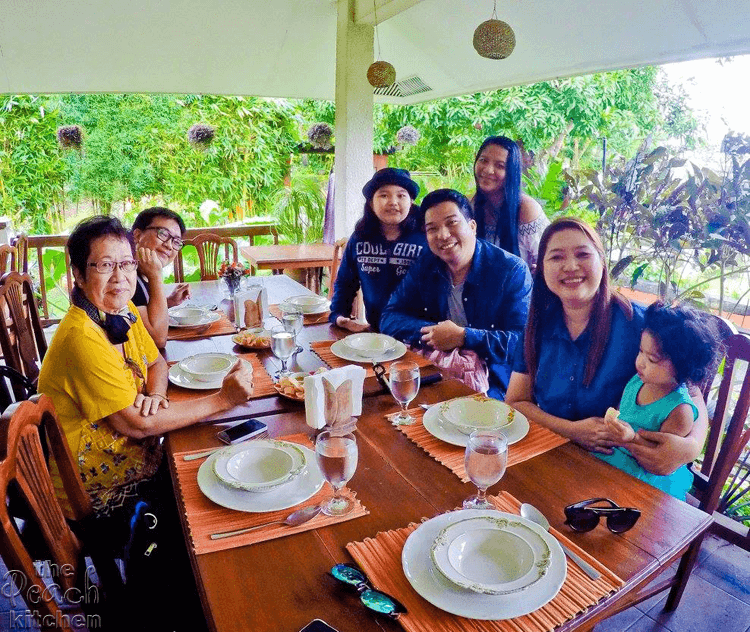 Immediately followed by lunch at Lime and Basil Restarant. And then we were off to buy Tagaytay goodies like Langka, Choco Milk, Nuts, and Kesong Puti at Buffy's, and Pomelo on the roadside.
Monday was the start of Ykaie's exam at school. Tuesday was spent accompanying Tita Eva at Asien Eye for her laser and injection. And hello Wednesday, Ykaie's last day of school before Christmas vacation. I woke up early to cook Tuna Pesto Spaghetti for her to bring to her Christmas party.
Tomorrow, I'd like to go to the mall and start buying things for Noche Buena and Christmas.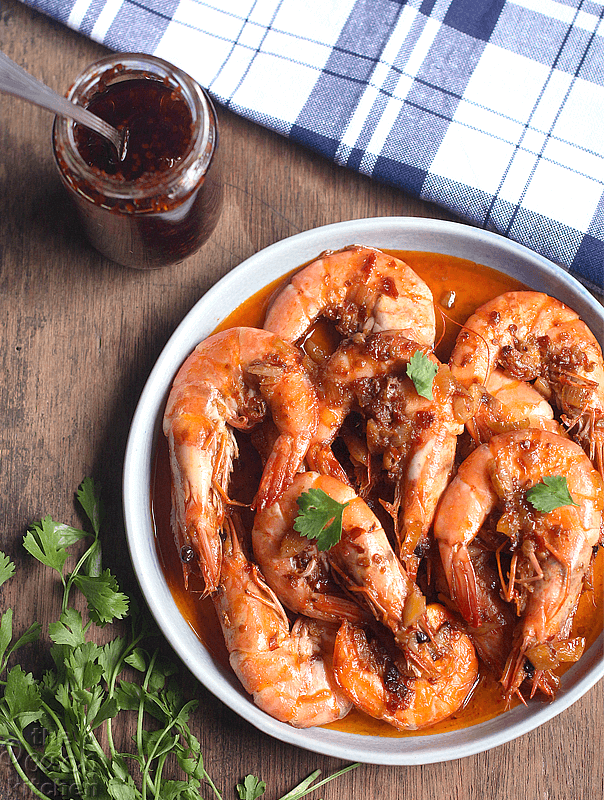 For tonight, I'm leaving you with thoughts of buttery, garlicky, spicy Chili Prawns to dream about and make for lunch tomorrow.
P.S. You'll need extra rice for this. That spicy butter sauce is made for drizzling over rice.
♥ If you make this recipe, be sure to snap a photo and tag @thepeachkitchen on Instagram (OR hashtag it #thepeachkitchen). I'd love to see what you cook!
Print
Chili Prawns
500g

prawns, washed and cleaned

1/4 cup

salted butter

6

cloves garlic, minced

1

white onion, chopped

2

–

3

tbsp chili garlic sauce

1 tsp

fish sauce
Instructions
Melt the butter in a pan. Add garlic and saute until a bit brown on the edges.
Add onion and saute until onion is translucent.
Add chili and shrimp. Stir until shrimp turns pink and is cooked.
You may orr may not garnish with cilantro leaves before serving with steamed rice.