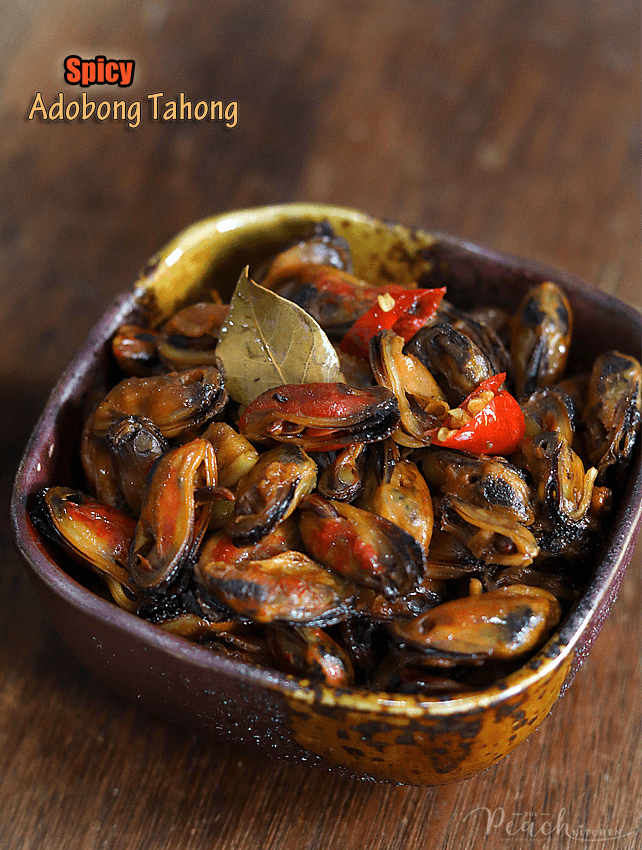 Happy Hump Day!
I know it's not exactly "happy" because it's the start of EECQ (you know, Extended Enhanced Community Quarantine) but let's make do of what we have today and be happy about it. They say this EECQ is gonna be until April 30 but I highly doubt it. I'm thinking we need at least 3-6 months if we're gonna #FlattenTheCurve.
Oh, and I figured with all these eating — I would also need to "Flatten MY curve"… heehee.
So I think I'll start working out tomorrow…but I don't think I can stop eating! Gosh, ang sarap kumain when you're at home with family.
Adobo is always a hit and a regular on the menu rotation. I just rotate chicken, pork, and the adobo variant. Now this Spicy Adobong Tahong just became the new superstar and I now keep a stash in the freezer whenever it's available at the market.
I use Mussels that are already steamed and shells are removed. To get about 500g of mussel meat, you'll need at least 2kg of mussels with shells. I just sauté that in oil and garlic, then add coco aminos, soy sauce, vinegar, and bay leaf. Exact measurement is below. Sorry it's late but here's the recipe to my Spicy Adobong Tahong.
NOTE: If you're not on keto and is not using coco aminos, you can just use soy sauce and add a bit of sugar for sweetness.
I hope you're well. I hope there's sunshine and fresh air in your week!
Ako, I'm getting my sunshine habang nagsasampay ng damit sa umaga. Kayo ba?
OTHER MUSSEL/SHELLFISH RECIPES YOU MIGHT LOVE…
Print
Spicy Adobong Tahong (KETO, Low Carb)
500g

steamed mussels, shells already removed

2 tbsp

olive oil (or coconut oil)

8

cloves garlic, chopped finely

2 tbsp

coconut aminos

1 tbsp

soy sauce

2 tbsp

white vinegar

2

pcs bay leaves

1

siling labuyo, sliced
salt and pepper to taste
Instructions
Heat olive oil in a non-stick pan and saute the garlic until a bit brown.
Add the coconut aminos, soy sauce, and vinegar. Bring into a low simmer and mix well.
Add the siling labuyo, bay leaf, and the mussels. Bring into a simmer while stirring for 3-4 minutes.
Season with salt and pepper to taste.
Enjoy with cauli rice or steamed rice if you're not on keto.
♥ If you make this recipe, be sure to snap a photo and tag @thepeachkitchen on Instagram (OR hashtag it #thepeachkitchen). I'd love to see what you cook!