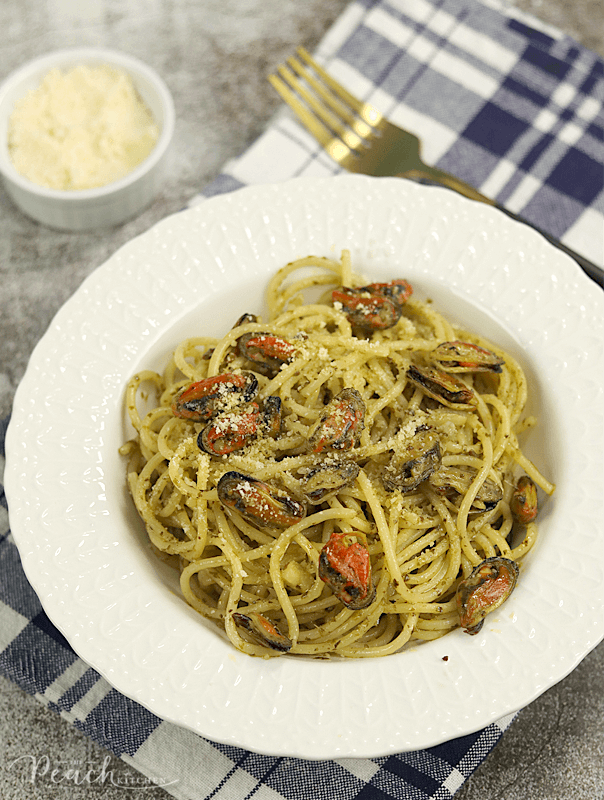 Pesto is Ykaie's favorite Pasta dish. What was surprising was and she learned to appreciate it at the age of two. And she didn't like Pinoy Spaghetti at all — at that age. Only pesto — or no sauce at all. Just pasta. Ang weird no? One would think that the first thing kids would appreciate is the white or the red sauced pastas.
I remember she would frequently ask for pesto pasta that it became a regular in our menu rotation at home. We would only change the meat it comes with — chicken, spanish chorizo, sausage, tuna, shrimp. Now we have a new one on our list — mussels. And it turned out so good!
WATCH THE VIDEO HERE:
OTHER RECIPES YOU MIGHT LIKE:
Print
Mussels Pesto Spaghetti
250g

spaghetti cooked according to package direction

2 tbsp

butter

5

cloves garlic, minced

1 1/2 cup

steamed mussels

1/2 cup

pesto sauce

1/2 tsp

salt
grated parmesan cheese
Instructions
Melt butter in a pan.
Add garlic and cook until fragrant.
Add the mussels and sauté for about a minute.
Add the pesto sauce and bring to a simmer.
Add the cooked spaghetti and mix well.
Season with salt and add about 1/4 cup grated parmesan cheese.
Mix well. Turn off heat.
Transfer to a serving plate and sprinkle with more grated parmesan cheese before serving.