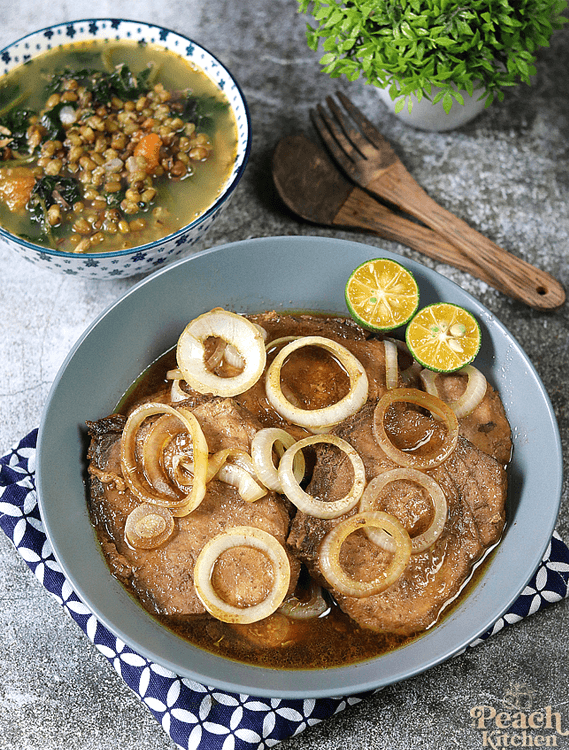 Bistek with lots of onions! Yan ang isa sa paborito naming ulam dito sa bahay. That is why we were super sad when the prices of onions skyrocketed a couple of months back. Imagine paying ₱720 for a kilo of onions? Ay naku, galit muna kami ng sibuyas!
But now that the prices of onions is back to normal, we are happy and is back to cooking dishes with lots of onions — like Bistek. I've made so many versions of this from traditional Bistek Tagalog (Beef) to Pork Steak to Bistek na Bangus to Creamy Pork Steak… and now to this Tuna Bistek.
Just like traditional bistek, I marinated the tuna steaks in a mixture of soy sauce and calamansi but I added a bit of olive oil to help the fish keep its moisture. Then I fried it in oil before simmering it in its own marinade. Super easy to cook!
As usual, we like our Tuna Bistek with lots of onion and an overpowering calamansi taste. Saraaaap!
Print
Tuna Bistek
750g

tuna steak

1/3 cup

soy sauce

2 tbsp

calamansi juice

1 tbsp

olive oil

3 tbsp

cooking oil for frying tuna

4

white onions, peeled and sliced

1/4 cup

water
patis to taste
Instructions
Combine soy sauce, caslamansi juice, and 1 tbsp olive oil in a bowl. Mix well.
Marinate tuna steaks for 30 minutes.
Heat oil in a wok and fry the onion slices for about 1 minutes. Remove and set aside
Fry the tuna steak the same oil until half cooked. Set aside.
Remove the oil in the pan and put the tuna back, add the marinade and water.
Bring to a simmer and simmer for 3 minutes.
Season with patis if needed.
Serve with steamed rice.